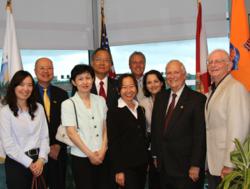 Sunny Isles Beach, Florida (PRWEB) June 12, 2013
The City of Sunny Isles Beach is proud to welcome its third Sister City delegation. The group of 12 delegates from Hengchun, Taiwan will arrive this week to join the City in celebrating 16 years of incorporation and sign the Sister City Twinning Agreement on Monday, June 17 at 6:00pm in the Commission Chambers (18070 Collins Ave).
The delegates, including Hengchun Mayor Yeh, will arrive early Saturday, June 15, 2013 and have an opportunity to meet with local Taiwanese officials, businessmen and residents, including the Sunny Isles Beach Ambassador to Asia, Fang Oliver, at a luncheon at Chef Ho. That evening they will join the Sunny Isles Beach Commission, including Mayor Edelcup, in the opening ceremony of the Sunny Isles Beach Newport Fishing Pier from 7:00 to 9:00 p.m. with a closing ceremony that will include fire dancers and fireworks.
Their visit will continue with tours of area attractions including the Florida International University Biscayne Bay campus and the official signing ceremony at 6:00pm on Monday, June 17, 2013 in the City of Sunny Isles Beach Commission Chambers. The ceremony will feature presentations by several students from the Coral Springs Chinese School and the City of Sunny Isles Beach's very own Biana Pinchuk.
The Sister Cities International Program, initiated in our City in 2005, encourages exchange of culture, tourism and commerce between the member cities. Hengchun, Taiwan will join Taormina, Italy (2012) and Netanya, Israel (2005) in sisterhood with Sunny Isles Beach.
For any questions please contact the Cultural & Community Services Department at 305.792.1706.