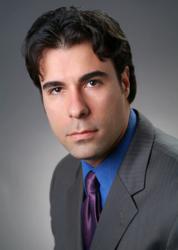 Phoenix, Arizona (PRWEB) June 18, 2013
The Frutkin Law Firm has added James Arrowood to its growing roster of attorneys. This is the third attorney hired by the firm in the past year. Arrowood brings extensive experience in business law, dispute resolution, and business negotiations to the firm.
As a Senior Counsel Attorney at The Frutkin Law Firm, Arrowood focuses his practice in the areas of conflict resolution and litigation, real estate, strategic financial and tax planning, and business law. He has also developed an emerging practice related to the special legal and financial needs of successful medical professionals and groups.
Before joining the firm, Arrowood served as counsel at one of the largest law firms in the world and as in-house counsel at several companies. As a result of his experience, he gained a wide breadth of business and legal knowledge, including an appreciation for business considerations in light of legal issues. Arrowood also spent a year living in London, England where he studied international law and interned in the House of Lords (England's equivalent of our Supreme Court/Senate at the time). After law school, Arrowood worked as a litigator for a large firm in Philadelphia and then continued on to Washington D.C., New York, and Los Angeles before making Arizona his home base in 2010.
Arrowood graduated from the law school at University of Notre Dame in 2002 after he earned dual Bachelor of Arts degrees from University of California, Irvine in 1999. He has bar admissions in Arizona, California, and New Jersey, as well as affiliations with the 9th Circuit, California District Courts, District Court for Arizona, Eastern District Court for Pennsylvania, and United States Tax Court.
The Frutkin Law Firm now consists of ten attorneys with decades of experience in the core areas of business law, bankruptcy, estate and tax planning, and civil litigation. For more information on The Frutkin Law Firm and practices areas, visit http://www.frutkinlaw.com.
About Frutkin Law Firm
The Frutkin Law Firm, PLC was founded in 2007 by attorney Jonathan Frutkin with the goal of providing exceptional legal representation to clients throughout Arizona in business and corporate law and related areas, ranging from taxation and asset protection to estate planning. The Frutkin Law Firm helps businesses, individuals, and families in Phoenix and throughout Arizona with their corporate and business law, bankruptcy, taxation, asset protection, wills, trusts, and estates, and litigation needs. The firm has locations in downtown Phoenix and North Scottsdale. For more information, visit http://www.frutkinlaw.com.