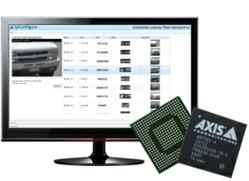 This new interoperability feature makes it even easier for eLPR to communicate with and be integrated into other third party VMS systems," said R. Cortland Tompkins, PhD, VP of Engineering
Norfolk, Virginia (PRWEB) June 12, 2013
http://www.ipconfigure.com eLPR is the first commercially available embedded License Plate Recognition application for IP cameras. Supporting Axis ACAP capable cameras equipped with the ARTPEC-4 processor, the embedded LPR software is capable of independently detecting, reading and recording license plates internally to the camera. The newest addition to ipConfigure's eLPR open API is push notifications. This ability allows a camera to push license plate result information to a third party server whenever a license plate is recognized.
"This new interoperability feature makes it even easier for eLPR to communicate with and be integrated into other third party VMS systems," said R. Cortland Tompkins, PhD, VP of Engineering, ipConfigure, Inc.
eLPR administrators can choose to push all detected license plates or only license plates configured on a watchlist to a website or any another server/application. Administrators also have the ability to turn off notifications altogether. The eLPR push notifications can be sent by HTTP POST or TCP as URL-encoded form data, plain text, or JSON.
For information about embedded License Plate Recognition or other ipConfigure products, email an ipConfigure Sales Member at sales(at)ipconfigure(dot)com, call 877-207-1112 or visit http://www.ipconfigure.com.
About ipConfigure, Inc.
Founded in 2003 and headquartered in Norfolk, Virginia, ipConfigure, Inc. is a privately owned research and development software company. A leading developer of enterprise IP video surveillance solutions, ipConfigure offers a variety of products - all of which leverage a browser-based interface and are capable of seamlessly supporting unlimited cameras, locations and users in a centralized or distributed architecture. ipConfigure's Enterprise Surveillance Manager, License Plate Recognition and Gigapixel Wide Area Surveillance solution have been successfully deployed in facilities ranging from nuclear power plants to international ports, hospitals, universities and banks.