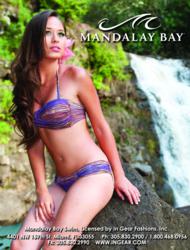 We're always looking for creative ways to capture the imagination of our guests
Las Vegas, NV (PRWEB) June 13, 2013
AALMG announced the launch of six initial strategic licensing partners for its "MB Lifestyle" program as part of a comprehensive lifestyle branding program with Mandalay Bay Resort and Casino, Las Vegas' only true destination resort. Coming on board will be InGear Swimwear and Maggie May Swimwear (men's/women's swimwear and cover-ups), Cambridge Towel Company (beach/bath towels and accessories), Impact Furniture Designs (indoor/outdoor furniture), Solaray Corporation (sunglasses) and Playa Vista Designs (Footwear). AALMG will showcase these initial licensee's products at this month's International Licensing Show in Las Vegas.
"We're always looking for creative ways to capture the imagination of our guests," said Chuck Bowling, President and COO of Mandalay Bay. "Through a robust licensing program, AALMG is committed to connecting Mandalay Bay with opportunities that not only generate new revenue streams, but also build brand loyalty and awareness among our guests."
Reed Nettles, AALMG's project manager for Mandalay Bay, stated, "We've been very strategic in selecting our licensee partners for Mandalay Bay, and are thrilled with the progress and the creative products they've developed that reflect the casual elegance of the brand. The reaction to the brand has been incredible, and we will be moving forward with a dozen additional licensees later this year," stated Nettles.
About Mandalay Bay
Mandalay Bay Resort & Casino is a unique destination resort set on 120 lush acres on the Las Vegas Strip. The resort offers three distinct hotel experiences: Mandalay Bay, a AAA Four Diamond award-winning hotel, with 3,211 luxurious rooms and suites reflecting a modern tropical ambiance; Four Seasons Hotel, a AAA Five Diamond hotel-within-a-hotel, offering 424 newly remodeled rooms and suites; and the stand-alone all-suite THEhotel which will be redesigned and rebranded Delano Las Vegas in early 2014. Mandalay Bay boasts an 11-acre tropical pool paradise featuring real sand, a wave pool, the only climate-controlled, poolside gaming in the city and the new DAYLIGHT Beach Club. Other property highlights include world-class entertainment at the 12,000-seat Mandalay Bay Events Center, award-winning dining by celebrity chefs and restaurateurs, the new LIGHT Nightclub, Shark Reef Aquarium and the 1.7-million-square-foot Mandalay Bay Convention Center. Mandalay Bay's offerings also include BATHHOUSE Spa, House of Blues Concert Hall and restaurant, and The Shoppes at Mandalay Place, a collection of unique boutiques and restaurants. Mandalay Bay recently became home to Michael Jackson ONE, Cirque du Soleil's latest resident production based on the music and choreography of the King of Pop. Mandalay Bay is a wholly owned subsidiary of MGM Resorts International (NYSE: MGM). For more information and reservations, visit mandalaybay.com or call toll free at (877) 632-7800 or find us on Facebook and Twitter.
About All-American Licensing & Management Group (AALMG)
All-American Licensing & Management Group (AALMG) is a full-service branding agency specializing in client management, licensing, endorsements and retail development. Headquartered in Los Angeles, AALMG has an impressive roster of clients ranging from top consumer brands to celebrities. Founded in 2011 by veteran licensing executives Tim Rothwell and Michael Gottsegen, both formerly of IMG, AALMG provides their clients with a global network of relationships as well as a track record of success. Rothwell is a licensing and business veteran who has recorded the largest licensing deals, in multiple categories, in the industry. And with more than 30 years experience, Gottsegen has garnered numerous awards including his induction into the In Store Marketing Institute's "Hall of Fame." For more information on AALMG, go to AALMG.com.
Contact:
Michael Gottsegen or Reed Nettles
(818) 749-7236
Michael(at)AALMG(dot)com and Reed(at)AALMG(dot)com