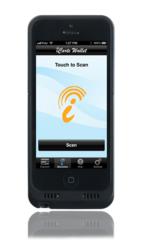 "Obtaining MFI certification and Global Visa Compliance on the iCarte® 520 is very important for our customers, as it allows them to confidently deploy their mobile payment services to their iPhone users" said Ambrose Tam, CEO of Wireless Dynamics Inc
Calgary, Alberta (PRWEB) June 12, 2013
Wireless Dynamics Inc., a leading provider of NFC and RFID products, announces that the iCarte® 520, NFC and Mobile Payment case for use with iPhone 5 is commercially available and has received Visa's mobile compliance for global commercial deployments. As an MFi (Made for iPod/iPhone) accessory attaching to the bottom connector of the iPhone, the iCarte® 520 turns the iPhone 5 into an NFC phone. The iCarte® 520 contains an embedded smart-chip which can be configured as debit, credit, pre-paid and loyalty cards. Consumers can now use their iPhone 5 as electronic Wallets to make payments, get Loyalty Points and Rewards. They can also use the iCarte® 520's built-in NFC reader to scan smart posters, obtain e-coupons and pass information to other NFC phones.
The iCarte® 520 has obtained the Visa compliance for commercialized deployment, which allows Visa issuers to easily deploy the iCarte® commercially with Visa Debit and Credit Cards. Obtaining Visa compliance means the iCarte® has passed strict performance and security testing to ensure transactions conducted with the iCarte® are compliant with payment industry and Visa global standards for contactless payments. It provides Visa issuers confidence in the security and reliability of the iCarte® products for iPhone customers.
"Obtaining MFI certification and Global Visa Compliance on the iCarte® 520 is very important for our customers, as it allows them to confidently deploy their mobile payment services to their iPhone users" said Ambrose Tam, Chief Executive Officer of Wireless Dynamics Inc. "We will continue to work with financial institutions, Mobile Network Operators, and our partners to provide convenient and secure applications and services to their customers.
The iCarte® 520 is the 3rd generation of iPhone NFC case released by Wireless Dynamics. It augments the successful iCarte® product line that has already been globally deployed by Banks and MNO's in countries such as Australia, China, Czech Republic, Hong Kong, Korea, Slovakia, Turkey and United Kingdom. The iCarte® products have been proven to be a reliable and easy to deploy solution for NFC and Mobile Payment services. There are over 35 applications available on the Apple App store designed to work with the iCarte® for services including, Mobile Payment Wallets, Access Control, Event Management, and RFID reading and writing.
The iCarte® line of products use Wireless Dynamics Patent Pending NFC technology, with Patents filed in North America, Europe and other countries. In addition to NFC, the iCarte® 520 supports multiple RFID protocol read and write functions. RFID tag information can be read and written by the iCarte® and communicated in real-time to enterprise databases through the iPhone's Wi-Fi or 3G connections. Business users can use the iPhone and iCarte® for commercial applications such as asset tracking, document tracking, healthcare, security and access control.
For more information on the iCarte® product line please visit http://www.iCarte.ca
About Wireless Dynamics Inc.
Wireless Dynamics Inc. is a leading provider of NFC and RFID SD products. The company's solutions enable NFC and RFID read/write functions for mobile devices such as Smartphones and PDAs. Headquartered in Calgary, Alberta, Canada, Wireless Dynamics also provides wireless ODM designs, products and services. For more information, please visit http://www.wdi.ca or call +1 403-250-1818.
iCarte® is the registered trademark of Wireless Dynamics Inc. in the United States and other countries.