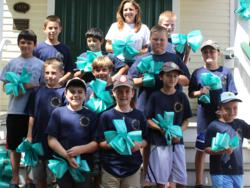 It was all so quirky. Why did I suddenly want to see the doctor?
Brookside, NJ (PRWEB) June 12, 2013
Terry Veiga believes her parents were watching over her from above. Six years ago—out of the blue—Veiga, a lifelong New Jersey resident, decided she should see a gynecologist for a routine checkup. "I hadn't been to one in years, but for some reason I felt I should go," she recalls.
That impulse changed Veiga's life.
"During the exam, my doctor said my uterus felt thick and he decided to do an ultrasound in his office. He saw immediately I had a mass and he sent me to get an MRI the next day," says the 48-year old mother of two sons, ages 11 and 16. Veiga, who lives in Allentown, NJ, was then sent to see a gynecologic oncologist, underwent surgery at Jersey Shore University Hospital in Neptune, NJ, and was diagnosed with early Stage 1 ovarian cancer.
"It was all so quirky," Veiga says. "Why did I suddenly want to see the doctor? I feel my parents—who both had died years ago—were somehow watching over me. Plus I was lucky to have a very good doctor who went the extra mile and moved quickly to get me diagnosed, rather than adopting a wait-and-see attitude as many doctors do."
A year or so later, Veiga heard about Turn The Towns Teal®, a New Jersey-based nonprofit promoting greater awareness of ovarian cancer. Every September, National Ovarian Cancer Awareness month, Turn The Towns Teal volunteers throughout the state and across the nation tie teal-colored ribbons on prominent municipal sites and hand out cards listing ovarian cancer symptoms. Veiga thought tying ribbons to make people aware of the disease and its symptoms would be a "great thing to do."
For the past four years, Veiga, along with family and friends, has tied ribbons in the town's downtown center and around all the sports fields in the area. Last year, her son's Cub Scout Pack 180 tied ribbons all down Main Street and the local Brownie troop pitched in by tying ribbons to mailboxes (after getting approval from locals). "I gave the kids 120 ribbons," she said. "I can't even tell you how many other ribbons were put up in the area. It was a lot." This September, she hopes to add Crosswicks, NJ to the areas being "tealed."
Tying ribbons may not sound like anything particularly special in a world loaded with fun runs, walk-a-thons, golf outings, and extravagant events. But ovarian cancer has long been an under-the-radar disease, one that people rarely talk about. "That's why I believe so strongly in the campaign," said Veiga. "The ribbons are the visual. We want draw people's attention to ovarian cancer," she said.
For women who are fortunate enough to have their cancer found early, about 94 percent live longer than five years after diagnosis. Unfortunately, most cases are diagnosed in the later stages. "If you don't get ovarian cancer diagnosed in the early stage, your odds of successful treatment aren't as good," Veiga said. "It's heart-breaking."
Ovarian cancer symptoms are often not taken seriously because they are so similar to many common complaints. The signs of ovarian cancer include feeling bloated, abdominal or pelvic discomfort, nausea/gas/indigestion, frequent urination, back pain, fatigue and post-menopausal vaginal bleeding. If any of these signs are new and persist daily for more than two weeks, they could be an early warning of ovarian cancer and you should see a gynecologist or gynecologic oncologist.
"Looking back, I realize I did have some symptoms, but I didn't know they might be connected to ovarian cancer," Veiga says. "That's why I do what I do and keep yakking about the importance of knowing the signs of the disease. I want everyone to be as lucky as I was."
Interested in volunteering with Turn The Towns Teal? You can register now by going to its website.
Turn The Towns Teal® is a national nonprofit that was founded in 2007 by Gail MacNeil of Chatham, NJ. The campaign goes on in her name and in her honor. For information about Gail's story and how to become a Turn The Towns Teal volunteer, go to http://www.turnthetownsteal.org.