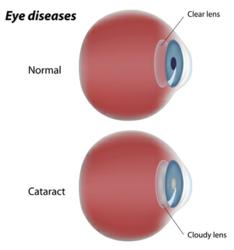 Some patients have given up night vision entirely by the time cataracts are diagnosed...
Charlotte, NC (PRWEB) June 12, 2013
Prevent Blindness America has announced that June is Cataract Awareness Month and Christenbury Eye Center, a premier laser eye clinic in Charlotte, North Carolina, is educating the community about the causes, symptoms and treatment of cataracts. During the month of June, Christenbury Eye Center welcomes the community to stop by the office to receive a complimentary cataract information packet with educational materials to help identify the symptoms and tips for delaying the development of cataracts.
Cataracts are a common condition, experienced by more than 22 million people over age 40 and that number will grow to 31 million by 2020. A cataract forms when the lens in the eye becomes cloudy, making vision blurry. Cataracts are painless and grow slowly over time, so they are not considered a medical emergency. Cataracts are usually mild at age 40 through 50s, progressing to mildly impaired vision over 60 years of age. After age 75, more serious visual problems may occur.
Cataracts are caused by a clumping of the protein in the eye that causes the impairment of the lens and creates vision similar to looking through a dirty window. Experts speculate that smoking, diabetes, sunlight exposure and general wear and tear may contribute to the growth of cataracts. Symptoms include:

Light sensitivity
Loss of ability to see color
Cloudy vision
Double vision
Loss of night vision
The need for brighter light while reading
Halos around lights, especially at night
Difficulty viewing objects against a background of the same color
Frequent changes to your prescription glasses or contact lenses
Cataracts are very common in people age 40 and over. Cataracts are often slowly progressive and some of the first symptoms are glare and difficulty with night vision.
"Some patients have given up night vision entirely by the time cataracts are diagnosed," says Dr. Christenbury. "A quickly progressive cataract with blurring of vision just over a few months is sometimes seen in the young, diabetics or patients taking steroids."
As cataracts appear, night vision decreases, then vision clarity during the day even with new glasses. Next, reading vision requires brighter illumination and street signs that others can easily read become blurry. Since a cataract causes light to scatter and not be properly focused, contrast sensitivity is also affected which means that the ability to differentiate letters and object are fuzzy.
The treatment for cataracts includes the removal of the cataract and replacement with an artificial lens. Often vision is corrected at the same time by replacing the cloudy lens in the eye with a new lens. Today, even astigmatism can be corrected during cataract surgery. Cataract surgery has come very far throughout history. This surgery is the most commonly performed outpatient procedure and takes only 10 minutes with mild sedation without sutures or stitches.
Now patients may choose modern lens implants to be placed during the procedure. For example, the Toric® lens corrects distance and astigmatism, and multifocal lenses, such as ReSTOR®, eliminates reading glasses. Lasers, such as the Catalys® Laser are now available for cataract surgery. The use of these lasers increases precision and accuracy, while making surgery safer by decreasing healing time and reducing the potential for infection.
With modern technology most patients have cataract surgery at an early stage so they do not lose their driving license or are unable to drive at night.
To receive a complimentary cataract surgery information packet, stop by Christenbury Eye Center at 3621 Randolph Road, Charlotte, NC 28211, or call (877) 702-2020 to schedule a free consultation. For more information, contact visit the Christenbury Eye Center website or Facebook page.
About Christenbury Eye Center
Dr. Jonathan Christenbury established Christenbury Eye Center in 1987 and is known for his groundbreaking work in vision care. For more than a decade he has consistently been one of the first surgeons in the Carolinas to perform many pioneering vision care procedures including LASIK, Visian ICL, and ReSTOR.
Dr. Christenbury has performed more than 10,000 cataract surgeries. He performed the first LASIK procedure in the Carolinas in the early 1990s and since that time has performed more than 75,000 laser vision correction procedures. He also performed the first IntraLASIK procedure on the East Coast in 2002 and the first WaveFront Customized IntraLASIK in the Carolinas in 2005. In the Spring of 2005, the doctor was the first Carolinas eye surgeon to perform the ReSTOR procedure, used both for the treatment of cataracts and for Presbyopia, eliminating reading glasses and bifocals. Today, Dr. Christenbury is the most experienced ReSTOR surgeon in the United States.