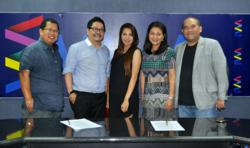 Richmond, B.C. (PRWEB) June 12, 2013
Juan TV Inc., a newly formed Canadian television enterprise, announces that it has entered into an agreement with the Philippines' total entertainment giant Viva Communications, Inc. to offer two linear channels showcasing the best Filipino movies via PBO (Pinoy Box Office) and general entertainment fare through Viva Channel to Filipino-Canadians all over the country.
Juan TV is giving more choices to the Filipino community in Canada by adding not only its own channel, JuanTV, but also Viva Channel and PBO - a total of three new channels, to the existing offers from GMA, ABS-CBN and FTV.
Viva top honcho Vic Del Rosario, Jr. says, "This is the first time that our channels will be available in Canada and we are excited to expand and grow our market there with this newest business partnership with Juan TV Inc."
Vincent Del Rosario III, Executive Vice President of Viva, says, "This is just a first step in our relationship with Juan TV Inc. and we look forward to expanding and growing our business with them."
Alan Yong, CEO of Juan TV Inc. says, "We are honored to form this partnership with Viva and look forward to more projects in the future. With Viva, we are offering unique television programs as well as movies".
PBO has the biggest collection of both newly-produced and favorite hit movies that viewers look for. Every month, PBO plays about a hundred titles, rotated in various schedules so viewers can enjoy watching at their convenient time. From the drama movies of Sharon Cuneta, Lorna Tolentino, Vilma Santos, Nora Aunor, Anne Curtis, Sarah Geronimo, Judy Ann Santos; to the action flicks of Fernando Poe, Jr., Robin Padilla, Bong Revilla, Jr.; to the comedies of Dolphy, Vice Ganda, Janno Gibbs, Tito Vic and Joey, to the films of hunks and heartthrobs Richard Gomez, Jericho Rosales, Christopher de Leon – PBO has them all.
On the other hand, viewers will get the best and freshest general entertainment shows from VIVA Channel (Home of the Stars). The channel features an exciting mix of reality, documentary, magazine/talk, comedy and music shows exclusively produced for it by Viva Communications. Inc. Among the fan favorites showing on the channel are the top-rating Popstar Diaries hosted by the pop princess herself, Sarah Geronimo. The show gives viewers behind-the-scenes look at the busy activities of the Philippines' biggest star; the laugh-out-loud series The Jon Santos Show; @nnebishowsa, the Pambansang Sweetheart Anne Curtis' own show; Star Yayey, the funny yet insightful look at the lives of personal assistants and his/her celebrity boss; Petra's Panniest, the super fun show hosted by Youtube sensation Ashley Rivera aka Petra Mahalimuyak; Live from Amerasian, the one of a kind show where the country's top music stars perform live straight from the best recording studio in the region; Pantaxa, the reality/star search show for the newest sexy star; Karaokray, the hilarious combination of comedy/reality search for the worst singers and actors hosted by Giselle Sanchez; Wapak, the teen-oriented comedy series; Pinoy Star Stories, the documentary series on the lives of famous Pinoy icons; Front Row, showcasing the various SRO concerts produced by Viva; and a whole lot of others sure to be enjoyed.
With JuanTV, PBO and Viva Channel (Home of the Stars), subscribers are able to experience an optimal selection of television shows available for subscription like no other.
About Juan TV Inc.:–Juan TV Inc. is a Canadian-based Radio, Television and Talent Management Company focusing on Filipino demographics in Canada. Juan TV Inc. will be launching its own television channel to be known as JuanTV with a combination of original productions to include, but not limited to, local news, commentaries/talk shows as well as news and television programs from the Philippines. Juan TV Inc. will also be offering "linear" programming from some of the Philippines' entertainment giants and major players such as Viva Communications and others. JuanTV, via its radio division, Juan Radio 96.1FM, launched Vancouver's first and only Filipino radio program that airs 6 days a week for the Vancouver Filipino community bringing breaking news, talk shows and interplay of Original Pilipino Music or OPM.
Juan TV Inc.'s affiliates also include Canada's first and only nationwide Filipino paper and daily news website – The Philippine Canadian Inquirer. It has a readership of over 480,000 monthly and is printed in cooperation with the Philippines' largest circulating newspaper – The Philippine Daily Inquirer.
About Viva Communications Inc.: Viva Communications, Inc., is the flagship company of Viva Entertainment Group (VEG) , an integrated entertainment conglomerate with businesses in entertainment content development, production, acquisition and distribution as well as artist management, development and representation. It is a leader in film production and theatrical distribution, video distribution and retail, cable and pay tv, concerts and events production and management, music production, publishing and distribution as well as in new media distribution. VEG is home to the Philippines' biggest stars and is the recognized authority in producing quality Filipino content in traditional as well as new media formats. Viva Communications, Inc. owns and operates VEG's pay tv channels PBO (Pinoy Box Office) and Viva Channel. It operates and distributes pay tv channels not only in the Philippines but also in the USA, Middle East and Europe via cable, direct-to-home (DTH) and Iptv, bringing the best entertainment to Filipinos worldwide.
Contact:
For contact, please call: 604-279-8787 x 1895