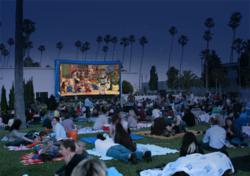 Sacromento, ca (PRWEB) June 12, 2013
Superior Self Storage is hosting 3 free family-friendly movies throughout the summer. The movies will be shown outdoors on a large screen and everyone in the community is invited.
The outdoor movies for 2013 are The Wizard of Oz, Brave, and Toy Story 3.
Superior Self Storage Movie Night Details

All showtimes are at 8:30 pm
1. June 15 – Wizard of Oz
2. July 13 – Brave
3. August 17 – Toy Story 3

Free popcorn and movie under the stars
Pre-show music will be provided
Family-Friendly Entertainment
Families and people of all ages will enjoy watching free movies in a safe environment at the Storage Kings movie nights. The movies were chosen with both parents and kids in mind to provide a fun Sacramento community event for everyone.
Connecting with the Community
Superior Self Storage takes its connection to the community to heart. We are a values-based company that understands our role in the community and recognizes the opportunity we have to bring people together.
Get directions to Superior Self Storage and more movie night details at StorageKings.com