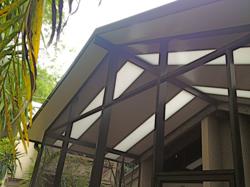 Because they are engineered to be part of the roofing system, IllumaView skylight panels don't leak.
MIAMI, FL (PRWEB) June 12, 2013
A sunroom on a shaded lot needs ample glass to be bright. Now that shaded sunroom, or any 4 season room, can be even brighter with giant skylights that span the roof, said Chris Noe, president of Venetian Builders, Inc., Miami.
Venetian has installed its first IllumaView skylights from Metals USA on a Coral Gables sunroom, Noe said. The skylights, which do not open, comply with the Florida Building Code, he said.
"IlumaView skylights are actually roof panels that are translucent instead of opaque," Noe explained. "They have an aluminum frame that connects with surrounding roof panels just as an opaque, aluminum-top panel would. That means they're part of an integrated roof system and strong enough to meet the code's wind and strength regulations."
Noe called the amount of light that the skylights introduce stunning.
"You can see the additional light especially on a heavily shaded lot or on an overcast day," Noe said. "But the skylights are appealing even where sunlight is plentiful. They really help to bring natural light into the room."
IlumaView panels eliminate a problem associated with poorly installed traditional, smaller skylights, Noe said.
"Because they are engineered to be part of the roofing system, IllumaView skylight panels don't leak," Noe said. "There's no need to put a hole in the roof to install a skylight. Although we work hard to install smaller skylights properly, their reputation for leaks often reflects some installers' poor workmanship."
The width of the skylight panels is either 2 feet or 20 inches. They extend from the ridge of the roof to the lower edge.
"That's a lot of skylight," Noe said, "but the panels are designed not to let in too much heat."
The double-pane panels have frosted polycarbonate surfaces on the top and bottom, Noe explained: "The air pocket provides insulation, making the skylights ideal for Florida despite the heat. And the panels are reflective, helping them to minimize heat buildup from sunlight."
Three additional customers have ordered the giant skylight panels for sun rooms that Venetian has designed and is installing, Noe said. Venetian installs from Jupiter to the Keys, including all cities in between, such as West Palm Beach, Fort Lauderdale, Hollywood and Miami, and all suburbs, such as Davie, Pembroke Pines, Weston, Riviera Beach, Boca Raton, Boynton Beach, Miramar, Hialeah and Homestead.
Venetian offers no-cost at-home consultations on solariums; patio covers, including pergolas and lattice; and screen enclosures, including swimming pool domes. Estimates are free, written and detailed.
For more information call 866-596-2427.