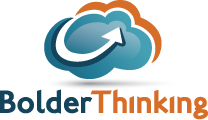 Our latest innovation provides a simple and powerful way to communicate.
Fargo, ND (PRWEB) June 12, 2013
Bolder Thinking is pleased to announce its latest innovation, webRTC Connect. webRTC Connect is a plug-and-play, real-time communication platform enabling click-to-call functionality from any webRTC enabled browser.
webRTC is a newer technology enabling plugin-free connections with a web browser and is estimated to be currently available to more than one billion endpoints. Prior to this technology, real-time communications required a downloadable plug-in or native app, forcing users to install, configure, and troubleshoot to get a connection.
Bolder Thinking's approach to webRTC is poised to revolutionize the way people communicate via online and social on both the consumer and call center side. For consumers, webRTC Connect allows an immediate voice connection through a simple "click" of a button or phone number on a website or social chat client. Passing rich data to an agent or business on the other end, 'Connect' powers a better user experience and reduces barriers to connect to the appropriate party. For a business agent, 'Connect' passes valuable real-time data to help expedite the call and ensure it's handled properly in the most efficient way.
"Our latest innovation provides a simple and powerful way to communicate," says John Jasper, CEO of Bolder Thinking. "It's game-changing for companies hyper focused on conversion optimization and providing a stellar customer experience."
Through a partnership with Astute Solutions, webRTC Connect not only allows a seamless experience from any web browser, but a seamless transition from automated support and live chat to voice. Web visitors are able to easily escalate an existing conversation online to the exact agent they were conversing with, passing along a rich history of historical information adding context to the call.
Companies interested in enabling webRTC Connect are able to get going in a matter of minutes. The technology works across all telephony platforms, including inside and outside of Bolder Thinking's core call center telephony solution.
webRTC Connect is formally unveiled this afternoon at the Call Center Week Expo in Las Vegas. Attendees visiting booth #617 can get a sneak peak. Jasper is also a speaker at the upcoming webRTC Conference & Expo in Atlanta, June 25 - 27.
To learn more and sign-up, visit Bolder Thinking webRTC Connect.
About Bolder Thinking
Bolder Thinking provides cloud based telephony tools for businesses and contact centers to increase sales and productivity, while decreasing costs. To learn more about Bolder Thinking or to request a demo, visit Bolder Thinking.