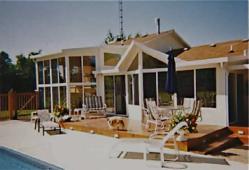 It pays to be pro-active on storm-damage prevention.
Miami, FL (PRWEB) June 13, 2013
With South Florida having escaped the worst of Tropical Storm Andrea's winds, if not its rains, Venetian Builders, Inc., President Chris Noe said today that owners of aluminum sunrooms, patio covers and screen enclosures shouldn't be complacent about damage prevention during the 2013 hurricane season.
"It pays to be pro-active on storm-damage prevention," said Noe, whose Miami company designs and builds aluminum additions, patio roofs and screen enclosures in South Florida, and upgrades older aluminum structures. "The Climate Prediction Center of the National Oceanic and Atmospheric Administration recently forecast on nhc.noaa.gov a 70 percent likelihood this year of 13 to 20 named storms, of which 7 to 11 could become hurricanes. That's above average."
Preparation is best started during buying, Noe said. "Buy from a reputable company that builds not just to meet the Florida Building Code, but also to surpass it," he said. "Ask if they use heavier-gauge framing on their screen enclosures, offer code-complaint skylight roofing systems, strengthen structures with carefully engineered gussets, and specify stainless steel fasteners. Venetian Builders takes all those measures," Noe said.
If you already have an aluminum structure, he said, follow these measures:

Check roofing. "Look at your roof before the season progresses," Noe said, "and before it starts if possible. If shingles are missing or seals on roof panels are loose, have the roof evaluated for repairs."
Remove acrylic windows. "Acrylic windows are good because they offer some shatter resistance, but they should be removed before storms with winds above 75 mph," Noe said. Venetian custom-fabricates acrylic-glazed windows to fit any opening, and they lift out easily, he said.
Fight severe winds. Category 3 hurricanes or higher, which start at 111 mph, can batter any structure. "If winds are expected above 110 mph, consider cutting the screen from the walls of a screen structure and remove its doors," Noe said. "A standard utility knife or box cutter will cut screen. Wind will be encouraged to go through the structure, reducing the likelihood of frame or roof damage. Replacing screen is thousands of dollars cheaper than replacing framing."
Secure loose objects. "We're all accustomed to storing things outside, especially this time of year," Noe said. "Chairs, tables, benches, pool accessories, planters – all can become missiles in a hurricane." Tie them down or, even better, move them indoors until the storm passes, Noe said.
Upgrade. Many aluminum structures built before the current building code went into effect in 2010 are probably not as strong as newer structures, Noe warned. "That's especially true in high-wind areas – along canals, inlets, lakes, ponds, parks and golf courses," Noe said. "Stronger doors, new clips to attach the frame to the footings, wire or 'K' braces for corners, and new screws will make them sturdy enough to withstand winds that they otherwise couldn't." Upgrades typically cost $2,000 to $4,000, he said.
Venetian Builders installs aluminum solariums; patio covers, including pergolas and lattice; patio rooms; and screen enclosures, including swimming pool screens. It services communities from Jupiter to the Keys, including West Palm Beach, Fort Lauderdale, Hollywood, Miami and all their suburbs, including Davie, Pembroke Pines, Coral Springs, Boca Raton, Miramar, Hialeah, Miami Gardens and Homestead.
For more information call 866-596-2427.