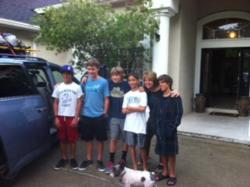 "We think of the Hands On Children's Museum as a place where children and families can be happy and where people of all types can learn and share their knowledge. It disappoints us that you would not let a lesbian couple be part of this." ~ Six FL Youths
Ponte Vedra Beach, FL (PRWEB) June 12, 2013
This week, six 13 year old North Florida youths demonstrated a flair for activism with a demand for equality in reaction to reports that The Hands On Children's Museum of Jacksonville, Florida allegedly denied a local lesbian couple a "family membership", based on a news report and interview posted on FirstCoastNews.Com on June 9, 2013. On June 11, 2013, it was reported by PolicyMic.Com that statements released by the Museum indicate that because the family is headed by two females and not a female and a male, Karen Lee-Duffell would have to pay extra to have her partner included on the membership form. Lee-Duffell, her partner, and their two children have been on a family membership for three years at the Hands On Children's Museum, and this family membership has never been called into question by Museum staff until recently.
Upon hearing the news, the boys were angered by what they perceived as inequality and because they had all been active patrons of the Hands On Children's Museum when they were young, they were disappointed in the Museum's position in refusing to grant family status to the Lee-Duffell's. Mitch Gustafson, Zach Gustafson, Taylor Hendricks, Jack Lechner, Eli McEvoy, and Justin Walton, all from the Beaches area of Jacksonville, Florida, posted a strongly worded letter to various Facebook sites including a newly-created Boycott the Hands On Children's Museum Jacksonville page.
The letter, authored by the six young men, is shown below:
June 11, 2013
Dear Hands On Children's Museum,
We are a group of six boys, aged 12 and 13, and we have been going to the Hands On Children's Museum since we were very young, some as early as 3 years old. We always enjoyed our time there very much. We strongly disagree with your discriminating against the lesbian family. We suggest you give them a Family Membership and not discriminate against them.
We think of the Hands On Children's Museum as a place where children and families can be happy, enjoy themselves, and where people of all types can learn and share their knowledge. It disappoints us that you would not let a lesbian couple be a part of this. Please think about what you are doing from their perspective. How would you feel?
We hope that you change your policy for lesbians and for all gay people. Hands On Children's Museum can be a role model but by your actions, you have disappointed us greatly. We look forward to you changing your policy.
Sincerely,
Mitch Gustafson, age 13, Ponte Vedra Beach
Zach Gustafson, age 13, Ponte Vedra Beach
Taylor Hendricks, age 13, Ponte Vedra Beach
Jack Lechner, age 13, Ponte Vedra Beach
Eli McEvoy, age 12, Atlantic Beach
Justin Walton, age 13, Ponte Vedra Beach
For additional information, please contact Patti Peeples Gustafson at 904-838-1782 or patti(at)hostage(dot)org.