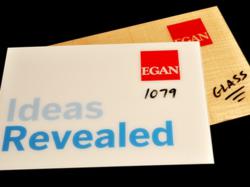 "The collaboration between Corning and Egan Visual – both companies with a history of innovation - has yielded, simply put, stunning results."
Chicago, IL (PRWEB) June 12, 2013
Egan Visual and Corning Incorporated (NYSE: GLW) announced the release of EganAero™ markerboards, the world's premiere line of glass markerboards leveraging the unique properties of Corning® Gorilla® Glass. The announcement came in at NeoCon, North America's largest design exposition and conference for commercial interiors, at the Merchandise Mart located in Chicago, where the Egan Visual showroom (Suite 1079) features an array of Egan's newest innovations including an array of EganAero™ boards.
Corning is the exclusive supplier of specialty glass to Egan Visual for the new EganAero line designed for the contract office furniture market.
EganAero GlassWrite Markerboards with Gorilla Glass offers a variety of customer benefits compared to conventional markerboards comprised of soda-lime glass. Gorilla Glass is a damage-resistant material with properties that enable designers with previously unavailable visual options. Corning Gorilla Glass is thin without compromising durability; therefore, the EganAero is lightweight and easier to install. Compared to conventional markerboards, installation of the EganAero is vastly simplified, and when installed it is up to 88% thinner. This results in a stunning visual appearance. The thin glass also reduces shadowing so that writing can be easier to read compared to conventional glass markerboards. Additional features of the EganAero include a smooth, easy-to-clean surface, with durability, magnet compatibility, and high optical clarity and legibility.
"The collaboration between Corning and Egan Visual – both companies with a history of innovation - has yielded, simply put, stunning results," said Sean Brown, President of Egan Visual. "EganAero gives designers and architects an entirely new aesthetic platform while delivering unprecedented performance in glass markerboard functionality."
"Corning Gorilla Glass continues to change the way the world thinks about glass, and we are pleased to be working with Egan on the EganAero product line. Egan is recognized as an industry leader in visual communication products, and EganAero is no exception. It highlights the unique capabilities of Gorilla Glass with an appealing and pragmatic design," added David Loeber, business director for Large Cover Glass, Corning Incorporated.
Photos of EganAero in the NeoCon showroom may be viewed at http://pinterest.com/eganvisual/egan-at-neocon-2013/. There will also be an opportunity to view the EganAero™ GlassWrite Markerboards at InfoComm 2013. InfoComm is located in Orlando, FL, June 12-14. Egan TeamBoard (booth #3052) and Corning Incorporated (booth #5063) will showcase the EganAero™ markerboards at the show.
About Egan Visual
Egan Visual designs and manufactures a full range of visual communication solutions for presentation and collaboration environments. Our products include professional grade markerboards, tackboards, mobiles, lecterns, centers, wallcoverings, cabinets, and glass markerboards. We offer a wide range of standard, configured, and custom response solutions. Founded in 1967, Egan Visual has manufacturing and distribution facilities in the United States and Canada. http://www.egan.com
About Corning Incorporated
Corning Incorporated (http://www.corning.com) is the world leader in specialty glass and ceramics. Drawing on more than 160 years of materials science and process engineering knowledge, Corning creates and makes keystone components that enable high-technology systems for consumer electronics, mobile emissions control, telecommunications and life sciences. Our products include glass substrates for LCD televisions, computer monitors and laptops; ceramic substrates and filters for mobile emission control systems; optical fiber, cable, hardware & equipment for telecommunications networks; optical biosensors for drug discovery; and other advanced optics and specialty glass solutions for a number of industries including semiconductor, aerospace, defense, astronomy, and metrology.
Media Relations Contact – Egan Visual:
Dubravka Milinkovic
(800) 263-2387
dmilinkovic(at)egan(dot)com
Media Relations Contact – Corning Incorporated:
Anna Giambrone
(607) 974-5933
giambronai(at)corning(dot)com
Beth Dann
(607) 974-4989
dannme(at)corning(dot)com