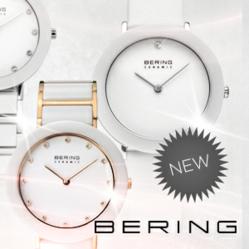 The brand is named after the Danish sailor Vitus Bering.
New York, NY (PRWEB) June 13, 2013
Traveling to the Arctic, Danish adventurer and businessman Rene Kaerskov was inspired to create a watch brand that would be as pure, clear and breathtakingly beautiful as the Arctic itself. A Silver Breeze is proud to offer Bering's new line of watches. The brand is named after the Danish sailor Vitus Bering, who is known for being the first European to discover Alaska and have one of the four main American time zones named after him – Bering-Time.
Bering watches are made of extraordinarily hard materials, like ceramic, titanium and stainless steel and feature an extremely flat and seamless design. The Ceramic collection is made with High-Tech Ceramic which is highly scratch resistant, very light, smooth, heat resistant and hypo-allergenic. These luxuriously designed watches come in fashionable colors and bold styles for both men and women.
The Classic collection features watches made of Ultra-Light Titanium and Stainless steel. Titanium is an extremely light matte metal that is scratch resistant and hypo-allergenic. Stainless steel is a common stylish metal that has a highly polished surface, adding an elegance and seamless finish to the watches. The elegant watches from the classic collection feature casual and dress watches for both men and women.
Bering offers a 3-year international warranty and watches range from $99.00USD to $289.00USD. For more information and to purchase from the new Bering watch collections, visit A Silver Breeze in store or online at: http://www.asilverbreeze.com.
About A Silver Breeze
A Silver Breeze was founded with a philosophy in mind: give women the freedom to be themselves and embrace a sense of style that's unique to each woman. A Silver Breeze offers women quality sterling silver jewelry that is interchangeable, from collections like the Kameleon, Chamilia, WeWOOD, Gorjana and Griffin, Bella Ryann, Bering and more!
Stores are located at the Aviation Mall in Queensbury, New York, at the Wilton Mall in Saratoga, New York, on Broadway Street in Saratoga Springs and online at: http://www.asilverbreeze.com. Please visit the online store to see all the available collections. A Silver Breeze ensures every customer's shopping experience will be an unforgettable one.