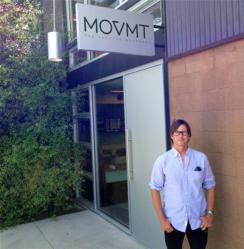 "With an industry heavy like Purdom evangelizing the brand, our eco-hip shoes will quickly be solidified among the taste makers." Kevin Flanagan CEO The People's Movement
(PRWEB) June 12, 2013
The People's Movement, maker of eco-hip shoes, hires fashion veteran Purdom Thomas as its Sales Director. Along with a stellar reputation in the contemporary fashion and apparel industry, Thomas brings two decades of global brand sales experience to the MOVMT.
"His knowledge of the industry and its trends is impressively extensive and his insights are always spot on," says Tony Rivera, Men's Buyer at Urban Outfitter's. "It's rare to find a sales person that knows the customer just as well as you, and Purdom is one of those few." Fred Segal Man and Conveyor's Brian Nylias, who has worked with Thomas for more than a decade says, "I've always leaned on Purdom as someone one step ahead of the game. He will take the MOVMT to the next level with hard work, integrity, and class."
As sales director, Thomas will lead the MOVMT rep force and its Los Angeles based showroom to effectively tell the MOVMT's anti-plastic story. Thomas will also work directly with accounts on product presentation, optimization, and creating retail demand.
"We have had great growth in our first eighteen months which has allowed us to hire a top tier sales executive", says Kevin Flanagan, CEO of The People's Movement. "With an industry heavy like Purdom evangelizing the brand, our eco-hip shoes will quickly be solidified among the taste makers."
"The MOVMT team is made up of creative and experienced people. I appreciate their passion, sincerity and vision. The MOVMT is uniquely positioned to be leaders in the surf industry, but also in the contemporary men's and women's specialty market," said Thomas. "I am looking forward to working with the team to help build strong products and sales performance for our retail partners!"
Thomas got his start at Diesel then went on to lead the sales team at Ksubi and national accounts for Levi Strauss & Company's premium collections. Sales acumen runs deep in his family, the Carlsbad-local's brother, Eric Thomas, is Vice President of Sales for RVCA. Thomas will work out of the MOVMT offices in Solana Beach, CA, reporting to the CEO. Join MOVMT in welcoming Purdom Thomas at Purdom(at)ThePeoplesMovement(dot)com.
About the People's Movement
The People's Movement creates stylish, eco-conscious footwear and accessories that stand for the fight against SINGLE-USE PLASTICS. Organic, eco-conscious materials pair with up-cycled plastic bags cleaned from Bali and California for nifty products that carry a powerful environmental message. A portion of sales is contributed to 5 Gyres, a non-profit that enables systematic reduction of plastics through oceanic research, collaboration and action. Join the cause. Start a MOVMT. http://www.ThePeoplesMovement.com. Follow the People's movement on Facebook, Twitter and Instagram.