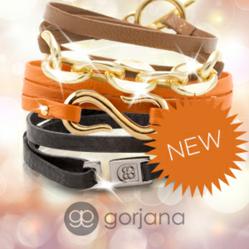 At Gorjana and Griffin, we bring a unique mix of function and style.
New York, NY (PRWEB) June 19, 2013
A Silver Breeze is proud to launch an all-new jewelry brand to its stores. Gorjana and Griffin was launched in 2004 by a husband and wife from Laguna Beach, California. The couple aimed at designing modern accessory pieces that blended the West Coast lifestyle with East Coast trends. These sophisticated jewelry pieces are one-of-a-kind in house designs made for the fashion-savvy modern woman. Jewelry pieces range from classically elegant to modern casual looks.
"From our own collections to specialty, custom design and charitable projects, we bring a unique mix of function and style, East and West coast lifestyle, and cause-centric business to the fashion and retail industry." – Gorjana and Griffin Inc.
A Silver Breeze offers a wide variety of sterling silver and 18k gold plated earrings, bracelets and necklaces from Gorjana and Griffin. Genuine leather and pave crystal accents help complement these quality pieces for a refined finish. The colourful leather and metal bracelets can be worn alone or layered for a unique stylish look. Necklaces and earrings are delicate and elegant to highlight an everyday outfit or an outfit for a chic night out.
For more information and to purchase jewelry pieces from the Gorjana and Griffin brand, please visit A Silver Breeze in store or online at: http://www.asilverbreeze.com.
About A Silver Breeze
A Silver Breeze was founded with a philosophy in mind: give women the freedom to be themselves and embrace a sense of style that's unique to each woman. A Silver Breeze offers women quality sterling silver jewelry that is interchangeable, like the Kameleon, Chamilia, WeWOOD and Gorjana and Griffin collections.
Stores are located at the Aviation Mall in Queensbury, New York, at the Wilton Mall in Saratoga, New York, on Broadway Street in Saratoga Springs, New York, and online at: http://www.asilverbreeze.com. Please visit the online store to see all the available collections. A Silver Breeze ensures every customer's shopping experience will be an unforgettable one.