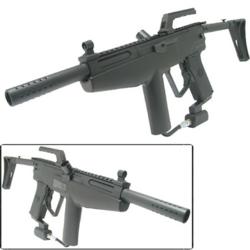 Great paintball gun for any player.
Morgan, UT (PRWEB) June 12, 2013
Action Center announces the Kingman Spyder MR3 on sale at $99.99. These military simulated paintball guns are a great way to get into the "milsim" line of paintball guns.
This paintball gun is built to handle the most toughest in extreme scenario play, and is a perfectly balanced paintball gun that is made to fit comfortably in a player's hand. The Spyder MR3 comes standard with anti-chop eyes, and has a full range of firing modes that include semi-auto eyes on, semi auto eyes off, and fully automatic fire rate, which allows you to customize your paintball game. This paintball gun also has the MR series of body kit, tactical rail, and a military shoulder stock that is standard on the MR3. These factory refurbished paintball guns from Kingman come with a 30 day guarantee, making it one of the finest paintball guns you will ever purchase. These are extremely rare guns so get one while you can.
http://www.actioncenterpaintball.com/Spyder-MR3.html
http://www.paintballguns.tv/Kingman-Spyder-MR3-paintball-gun-_p_267.html
http://www.utahpaintballsupply.com/kingman-spyder/spyder-mr3/