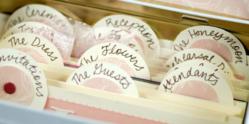 An experience so great, you'll want to kiss the planner!
Palm Beach, Florida (PRWEB) June 12, 2013
Today there are multitudes of wedding industry directories on the internet which list wedding resources. There are paid advertising directories listing various venues and vendors that can easily be found, as well as appointment setting tools to help an engaged couple find what they need. But short of spending a large sum of money to hire full-service wedding planner, engaged couples often find it challenging to get personal service and expert guidance, without sacrificing the entire wedding budget.
While these brides and grooms-to-be are not in the market for a full-service wedding planner, they are in need of direction and would benefit from assistance on deciding where to go, who to hire, as well as receiving money and time saving tips for the best options that are on the market from an impartial, yet informed professional. Whether it's a large, lavish affair or a small understated event, having the assistance of a professional wedding planner can alleviate much of the stressful guesswork, save time, avoid costly mistakes and add those special touches to a special event.
"I get calls all the time from couples that live out of state, and even local clients, that really have no way of knowing if they are going in the right direction. They lack prior experience, understandably so, and need a wedding 'compass', so to speak, even if they are not in the market for a full service planner," explains Aviva Samuels, owner of Kiss the Planner, a Palm Beach Wedding Planning Company.
While Kiss the Planner typically plans a number of weddings from start to finish, this Wedding Planning Service is just the right amount of assistance for many clients who want to be fully hands-on, but still want the benefit of having expert guidance.
"When it comes to planning a wedding or special event", Kiss the Planner continues, "there is truly a lot to choose from and quite a few intricate details to iron out. Sometimes it is the sheer number of unknowns that can often overwhelm my clients and propel them to seek wedding planning help. With our Wedding Compass Consultation Service, together we identify the challenges, find the solutions, and alleviate the stress factor".
Over the course of three 1-hour consultations the client is provided with all the necessary checklists, budget sheets and timelines, including lists of suitable venues and vendors, a wedding design plan, cost saving tips, etiquette advisement, gift registry, and honeymoon advice.
The meetings, via phone or video chat, are spread out over a set period of time that is determined based upon the client's specific needs, at the beginning of the process. The client starts by filling out a questionnaire, so that Samuels can become acquainted with the client's needs and wishes. In the first of the three meetings, Samuels assesses this information and has an opportunity to discuss and advise upon the direction in which it makes sense to go.
Following this meeting, the client is provided with a custom-created list of suitable venues and vendors to fit the client's needs, tastes, and budget, as well as task lists, checklists, cost saving tips and proposed budget guidelines to follow. This assures that the client won't sink more than the proper share of the budget to the wrong source. In addition, Samuels maps out a wedding design plan, consults on etiquette advisement, gift registry, and honeymoon planning.
A second 1-hour consultation follows, in which the client's progress is checked and any issues that still need resolving are confronted. The process is refined into a more consolidated list of items still to do, and the plan of action continues. Finally, one month before the wedding date, a third and final hour-long meeting makes sure that all is checked off the list and flags anything that still needs to be accomplished.
Aviva Samuels of Kiss the Planner, boasts, "an experience so great, you'll want to kiss the planner!"
About Aviva Samuels:
Florida wedding planner Aviva Samuels of Kiss the Planner is available to speak with the media about wedding planning, destination weddings, wedding design trends, and more. The Palm Beach event company offers an array of extraordinary wedding services, including destination event design, planning and coordination. For more information on Kiss the Planner or to contact Aviva Samuels, go to: http://kisstheplanner.com