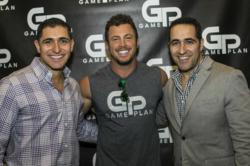 Our mission is to improve the lives of our customers, by assisting personal trainers in providing immediate online access to our products and services.
Boston, Massachusetts (PRWEB) June 13, 2013
Game Plan Nutrition LLC (GPLH), a line of nutritional supplements sold online exclusively through a network of personal trainers, announced the official company launch at CEO Andrew Bachman's birthday on Sunday June 9, 2013. Over 300 people attended from throughout the United States signing up for GPN's line of nutritional supplements at Strega Waterfront in Boston, Massachusetts. Many attendees were personal trainers getting a first-look at our nutritional supplement products and online marketing tools.
CEO Andrew Bachman says, "Our mission is to improve the lives of our customers, by assisting personal trainers in providing immediate online access to our products and services. This improves customer fitness, while enhancing revenue opportunities for our personal trainer affiliates. Management and shareholders are thoroughly excited about the growth of our business and reaching profitability in the near future."
The launch party featured a gifting suite comprised of an assortment of active-wear apparel made exclusively for Game Plan Nutrition. Items included neon reflecting running hats and muscle T-shirts and tank tops, conducive for working out.
Each guest at the party was given a gift box filled with product samples, including Game Plan Nutrition's highly anticipated pre-workout Pump in both orange and fruit flavor. The post-workout advanced amino-acid recovery formula and Game Plan Nutrition's premium 100% all-natural whey protein in both vanilla and chocolate were highlights of the sample box. The top formulated Focus Food bar that features 18g of protein with grass fed whey and caffeine was also included.
The main event at the launch party was a raffle that entered every guest who signed up for Game Plan Nutrition's program. Among the items raffled to lucky participants were a brand-new Rolex and 2 backstage passes to a David Letterman taping.
About Game Plan Nutrition
GPLH develops tools and products focused upon the intersection of three important market trends: proprietary nutritional supplements, sold exclusively through personal trainers and other fitness professionals, using online mobile tools. These tools allow our affiliate fitness professionals to coordinate fitness goals with our nutritional supplements at the key point of contact before, during and after workouts and related consultations. The official Game Plan Nutrition LLC product launch will be in the summer of 2013.
Forward-Looking Statements
Certain statements made in this announcement may constitute "forward-looking statements" within the meaning of Section 27Aof the Securities Act of 1933, as amended, and Section 21E of the Securities Exchange Act of 1934, as amended. Management cautions that these statements are based on management's current knowledge and expectations and are subject to certain risks and uncertainties, many of which are outside of the control of the Company that could cause actual results and events to differ materially from the statements made herein. For a more detailed discussion of the risks that could affect our operating results, see our filings with the Securities and Exchange Commission, including our annual report on Form 10-K and our subsequently filed quarterly reports on Form 10-Q. The Company's actual results could differ materially from those contained in the forward-looking statements. The Company assumes no obligation to update any forward-looking statements, whether as a result of new information, future events or otherwise.