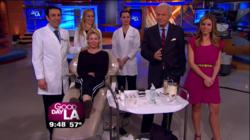 Los Angeles, California (PRWEB) June 13, 2013
According to a June 4, 2013 Fox News Latino article, titled "Daily Sunscreen Use Slows Skin Aging," daily sunscreen application can reduce the visual aging of the skin. UV rays, which cause wrinkles and other aging signs, can subtly cause damage that accumulates virtually anytime one is exposed to sunshine. Australian researchers carried out an original study to gauge whether sunscreens actually helped, in light of that damming evidence. A cast was produced of the top of every participant's hand to monitor the wrinkles and fine lines that indicate sun induced aging (Go to goo.gl/R7dGV).
"The skin can usually stretch and recoil, due to the elastic fibers that support it," says Dr. Simon Ourian, Medical Director of Epione Beverly Hills. "UV rays harm this elasticity and cause the surface of the skin to wrinkle and sag."
According to the article, the study, funded by the Australian government and published in the Internal Medicine Annals Journal, assessed 900 participants under 55 years of age, comparing people that were randomly chosen to apply sunscreen each day with people who only used it whenever they felt it was required. Over four and a half years those who regularly applied sunscreen had more youthful appearing hands, with 24% less skin aging, compared to people who only used the sunscreen sparingly. The study concluded that both middle aged and young adults enjoyed skin-revitalizing effects.
Even fifteen minutes of sunlight each day can cause brown spots, dilated blood vessels and wrinkles. This news has come just as more stringent FDA rules for US sunscreens are coming into force. Now, for the first time ever, sunscreens with the label "broad spectrum" have to offer protection against UVB rays, which cause sunburn, as well as the deeper penetrating UVA rays, which are associated with skin cancer and premature wrinkles.
"Sunburn, particularly during childhood, has been connected to increased melanoma risks," says Dr. Ourian. "However, generally, UV exposure contributes to both melanoma and other skin cancers."
Dr. Ourian has been a pioneer in laser technology and non-invasive aesthetic procedures including Restylane, Juvéderm, Radiesse and Sculptra. These treatments are used for the correction or reversal of a variety of conditions such as acne, acne scars, skin discoloration, wrinkles, stretch marks, varicose veins, cellulite, and others. More information about the ability of sunscreen to prevent the visual signs of aging can be found on Epione's website.