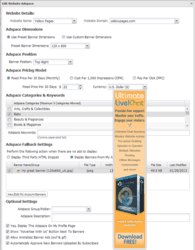 The most advanced, yet intuitive ad management platform on the web and it's FREE to use!
Los Angeles, California (PRWEB) June 12, 2013
Ad Space Platform recently announced the availability of their new Ad Space Market Place platform which allows anyone to sell ads using their sophisticated ad management interface. Ad Space platform is a new software as a service (SaaS) platform which allows people to monetize all their virtual ad spaces from one control panel, cutting out all the middle men and allowing them to deal with their advertising customers directly. Now anyone can accept recurring payments from their advertisers and keep track of them in an organized fashion using this intuitive, user-friendly interface.
What's best about Ad Space Platform is that anyone can sell twitter ad spaces, website ad spaces, email ad spaces, RSS feeds, and much more, all from one very intuitive, sophisticated interface which is known as the ad manager. The ad manager interface was carefully developed with every ad space owner in mind, to ensure that it allows them to cut down their middle man costs and maximize their advertising revenue potential.
Another great benefit of using Ad Manager is that it allows people to effectively promote their ad space(s) in a visible manner on their website by enabling a neat "Advertise With Us" button that appears on the side of their visitors' web browser when they visit their website, allowing people to know that there is advertising space available. That is in addition to the Ad Space Market Place featured on AdspacePlatform.com which allows people to browse, buy and sell ad spaces right there from within one easy to use website.
The best part about all this is that Ad Space Platform and Ad Manager are completely free to use. Anyone can sign up and start using this sophisticated platform to control and manage all their ad spaces with ease and professionalism.
For further information, please feel free to contact Ad Space Platform customer service and one of their friendly customer service agents will promptly assist you.