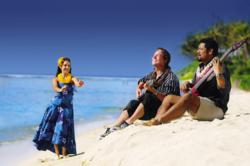 [HAPA music is] "beautiful, fragile, spiritual, powerful"… (L.A. Times).
San Rafael, CA (PRWEB) June 13, 2013
Often encapsulated as the "Sound of Maui," HAPA's music evokes a place that many people at different times, have referred to as heavenly. The overriding quality of their music is one of beauty and serenity, found in the majestic tones of the oli (chant), mele (song), the elegant movements of the sacred dance known as hula, and the exhilarating innovative sounds of virtuoso slack key guitar. Tonight's concert offers a trip to Hawaii through music.
The evening will open with a Hula dance performance and lesson offered from Halau Hula Na Pua O Ka Laakea.
The beautiful and safe Swig Field is surrounded by Marin hills and begs for picnicking, but will offer the choice of purchasing delicious as well as affordable meals on-site from San Rafael's own Mauna Loa Hawaiian BBQ pop-up Restaurant. No alcohol is allowed to be brought in, but is available for purchase.
The theme is Hawaiian Islands, and audience members are encouraged to wear their favorite Hawaiian shirts.
The Marine Mammal Center hosts the Kid Zone, offering up an art project and ocean education along side the playground for youngsters. A Georgi & Willow pop-up shop will offer festival shopping and add to the full Marin community experience.
Special guests will include Marine Mammal Center and County of Marin employees.
Ticket Information:
Tickets are available online or by calling 415.444.8000

Ages 17 and under are FREE, no tickets necessary
Subscribe- ALL 5 Concerts $80 – includes early entry to field
Single tickets- $20 Advance/ $25 Day-of.
Reserve a Picnic Table for 8 or intimate Cabaret Tables for 4
Group discounts available.
6:00pm- VIP Table & Subscription Entry
6:15pm- General Admission Entry
6:40pm- Hula Lesson
7:00pm- Hula Performance
7:15pm- Concert Begins
All performances are over before 10:00pm
The Kanbar Center for the Performing Arts is the Performing Arts Department within the Osher Marin Jewish Community Center in San Rafael, California. All are welcome, no membership is ever required to attend. The Center is a long-standing Marin non- profit, centrally located in Marin County and just 1/4 mile east off Hwy 101
Summer Nights 2013
7/13- Newgrass: Hot Buttered Rum
7/20- Euro Café Fusion: Rupa & the April Fishes with Classical Revolution
7/27- Hawaiian: Hapa
8/3- Latin: LoCura/Los Pinguos
Two Bands~ Dance instruction & wooden dance floor.
8/10 Louisiana Roots: Andre Thierry & Zydeco Magic
Performing Stars "Zydeco Boys" and MSA Blues Band perform.
Dance instruction & wooden dance floor.