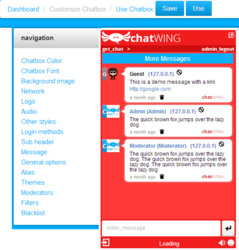 Boston, MA (PRWEB) June 12, 2013
Chatwing, a company known for its reliable chat applications, recently launched a chatroom linking feature that enables web users to communicate with efficiency. The chat network feature is strong and versatile enough to connect chatrooms with utmost precision. The company's developers have also pondered that this feature can help social media marketers gain the proper exposure they are looking for.
Chatwing's communication strength is recognized in social networking sites such as Facebook and Twitter. Recently, the company has reached out to Google and Yahoo communities. To add fuel to the company's expansion, the developers explained the importance of the chat box linking option to many people. The feature can be accessed in the account dashboard, along with other customization options. Once the feature is active in the chatbox, it will create continuous streams of traffic for any blog or website.
The Chatwing chat box team is also running various maintenance checks to ensure that the chat network feature is at par with the platform's speed. No problems were encountered due to the vigilance and determination of the team. In the first week of testing, the developers received feedback from web users, indicating that they want more chat network niches. The chat software team is positive that it can cover all possible niches, given the luxury of time.
To keep the chat app well-known, the developers will frequently update the company's Facebook page. The developers will also share important tips on how to use the chat network feature efficiently. The chat network feature is also monitored everyday, so that the team can deal with possible technical problems that may arise.
About Chatwing.com
Chatwing.com specializes in the new field of website chat. Over years, the Chatwing team has introduced live chat widget for hundreds and thousands of blogs. The Chatwing application bridges people from many parts of the world, creating global synergy through the Internet. The shout box can be installed in just seconds, and it can be used for varying purposes such as leisure and Internet marketing. It also allows a user to customize the size, color, and name of the widget.