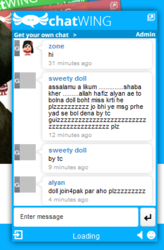 Boston, MA (PRWEB) June 13, 2013
After several chat widget experimentations, Chatwing's core developers managed to come up with a chat network option. The feature allows chatroom linking—a capability that connects all users' chatrooms within a certain niche. The developers believe that chatroom linking is beneficial for everyone who wants to create and maintain online presence. Social media is also a main factor emphasized in the chat network feature.
Chatwing's chat software developers have observed that visitors of online portals are yearning for an effective communication method that can allow them to voice out their concerns and suggestions. By operating on this premise, the developers created the chat network feature. Accessing the feature is easy: first, the registered Chatwing user just needs to go to his account dashboard. There, he can select the desired chat app network and other specific parameters.
The efficiency of the chat box network lies in proper website communication. With linked chatrooms, users will have more information. They can even send social media invitations to each other. The feature also sheds light to marketing campaigns that are already on the losing grounds. Because of this reliability, Chatwing's chat network feature received high influx rate of users in just few days. These users are ready to take their communication experience to a new level.
More information about the chat network feature is highlighted in Chatwing's official Facebook page. This information tackles the proper uses of the chat network features and its key benefits, as well. Other information includes guidelines on how to embed the chat widget effectively, and schedules of maintenance checks to ensure that the platform is always at top speed.
About Chatwing.com
Chatwing.com specializes in the new field of website chat. Over years, the Chatwing team has introduced live chat widget for hundreds and thousands of blogs. The Chatwing application bridges people from many parts of the world, creating global synergy through the Internet. The shout box can be installed in just seconds, and it can be used for varying purposes such as leisure and Internet marketing. It also allows a user to customize the size, color, and name of the widget.