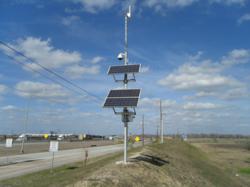 Solar Power Wireless Camera Systems have enabled perimeter security, remote entry, and off-site remote security like never before.
(PRWEB) June 20, 2013
A2Z Security Cameras, LLC a locally based value added distributor of professional grade security solutions, unveils a new line of complete and pre-packaged Solar Powered Security Cameras. A2Z Security Cameras' diverse selection of Solar Power Security System designs offer previously impossible or impractical security applications to be easily achieved, often for less investment and all thanks to "green" power. Before mentioning the intelligent, innovative and advanced functions delivered by these systems, let's review these systems' true marvel and power. The Solar Power Security Systems manufactured by A2Z Security Cameras utilize only brand name and fine grade components to ensure optimal performance, continuous reliability and long term operation. The solar power camera solutions are engineered, manufactured, tested, deployed and supported by A2Z Security Cameras' expert staff and integration partners. Solar Security Camera Systems designed and produced by the A2Z Security Cameras' engineers are in use world-wide in a variety of applications. Stating the quality, A2Z Security Cameras' Solar Systems are backed by a minimum 3 year warranty with longer term warranty on many parts like the solar panels. The Solar Power solution is 100% stand-alone and environmentally friendly, totally powered by solar technology for freely powered solutions anywhere. These systems remove the needs for infrastructure and practically eliminates maintenance needs as well. Units are designed for years of continued use in even the harshest environments.
The Solar Powered Security Cameras are custom built in pre-designed packages for every type of camera and all sorts of wireless options. A2Z Security Camera system are flexible and can often provide specific camera brand and model support as well as customized systems are available for most project request. Designed for maximum application satisfaction and convenience, systems are provided with or without pole. In Fact, A2Z Security Camera unique, traffic grade sectional pole system enables a total solution from the ground up capable of shipping on a single pallet. A2Z Security Cameras has succeeded in providing a fully modular and complete solar powered solution for all your security needs. The Solar Power Wireless Camera Systems are on par with the industry leading selection of gear distributed by A2Z Security Cameras. Designs with the widest selection of PTZ Dome Cameras, Fixed Cameras, IR Bullet Cameras, Vandal Dome Cameras and other popular camera types are optional. Everything from High Powered Infrared HD Zoom Cameras, Megapixel Cameras, Thermal Cameras and even license plate capture LPR cameras are offered. Communication technology is equally impressive with all types of Wireless choices from simple WiFi to complex Wireless Network Systems. Frequencies such as non-licensed 5.8GHZ, 900MHz or 4.9 GHZ Public safety bands are all selectable while Cellular 3G/4G communications is highly popular and even well proven. Additionally, the high grade Solar Power Cameras employ advanced wireless systems capable of achieving long range, non-line of sight transmission further widening the scope of real-time IP Surveillance applications.
Solar Power Wireless Camera Systems have enabled perimeter security, remote entry, and off-site remote security like never before. Fully stand-alone Systems capable of transmitting wireless High Definition Video Surveillance in real-time to central command centers is reality. Even Two Way communication, public address, access control, relay device operation to sophisticated and automated alarm management through video analytics is all possible. License Plate Recognition (LPR) for highways or city streets to securing Thermal Infrared Surveillance of remote borders is further achievable. Countless system designs benefitting military, law enforcement, and government operations to affordable solutions for all types of businesses, organizations and private property allow universal advantage of these advanced systems. To see more examples of these system please visit: http://www.a2zsecuritycameras.com/solar-power-security-camera-systems.html
About A2Z Security Cameras, LLC.
Today, A2Z Security Cameras continues to pioneer the way in specialized security, surveillance and communication solutions with strides in enhanced system functions, reliability and efficiency. A2Z Security Cameras experts have years of experience in developing , deploying and supporting advanced security solutions of all types. A2Z Security Cameras focuses on providing superior customer service, convenience and cost effectiveness to their clients and serves the entire U.S Market and some 30 plus countries . Visit http://www.a2zsecuritycameras.com/ for more information about A2Z Security Cameras and their top tier products.
For more information about these Solar Power Systems, please contact
Justin Clarke, CEO
4717 Calmont Ave, Fort Worth, Texas, 76107
Toll Free Office: (855) 376-6699
Local/Fax: (817) 956-6699
Justin(at)a2zsecuritycameras(dot)com