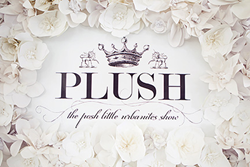 From the elated feedback, we are even more determined and ready to bring another exciting show upcoming in Vegas this October, which will bring even more surprises in entertainment and networking opportunities for our exhibitors.
Los Angeles, CA (PRWEB) June 12, 2013
This past weekend, PLUSH 2013 June 7th-9th, showcased the successful marriage of the trade and consumer show with a sold out luxury baby and toddler trade and consumer show. Exhibitors, buyers and consumers were able to emerge in the juvenile industry's premiere products and services.
"The positive responses we have received from consumers, buyers, exhibitors, and celebrities have exceeded any and all expectations," said CEO and Founder of PLUSH, Jina Park. "From the elated feedback, we are even more determined and ready to bring another exciting show upcoming in Vegas this October, which will bring even more surprises in entertainment and networking opportunities for our exhibitors."
The show has been praised by some of the industry's largest names who were in attendance at the PLUSH 2013 this past weekend.
"Expectations for the 2013 PLUSH Show ended on a high note this year. These expectations were met and praises were heard everywhere at the end of the 3 day event," said Zora Sawyer from Closic's Baby & Teen Furniture. "The PLUSH Show, for the last 2 years, has accomplished an amazing job as a consumer only event. This was the first year PLUSH opened their doors to retailers. The size of the show gave me the opportunity to meet and spend time at every booth at the show. I found new products for my store and made new friends. On the last day of the show, I had a chance to be out on the floor with more than 800 consumers and saw firsthand what their needs and requirements were. The Plush Show is for the independent juvenile specialty stores."
Exhibitor and sponsor, Daddy Scrubs' spokesmodel Ulises Guzman shared industry insight from both the retailer and consumer aspect, "PLUSH 2013 was a great experience for the brand and myself, from the variety of vendors, media to celebrities I gained unprecedented experience. The first two days was a bit slow but that's expected since retailers usually research vendors priors and the third day mirror traffic like Black Friday. From entertainment for the kids, raffle prices for the consumers, and even celebrity sightings, the consumer show was a success until closing."
Guzman continued to praise the team and said, "The PLUSH team even catered to vendors with daily water and coffee, receptions and did I mention they had a poker night and karaoke night with drinks and appetizers? They really took care us."
"The show was original, fun, and had many new innovative products," said Barbara Hills, buyer and storeowner of Kids Pointe in Tallahassee, FL. "Retailers and vendors seemed to be intrigued with this new concept and ready to move forward together to build the relationship and combine resources. It is nice to have a choice in our industry!"
Popular and trending breastfeeding resource center, The Pump Station and Nurtury's founder Cheryl Petran shared her vendor experience, "With regards to the B2B show on Friday and Saturday – we really enjoyed walking and exploring a trade show in our back yard. There were fewer vendors than ABC Fall Show, but we saw that as a good thing. Quality not Quantity. This afforded us the ability to spend quality time with existing and prospective vendor partners. We were able to better delve into product features and benefits and understand research behind development of various products…At The Pump Station we pride ourselves on curating the best products for expectant and new parents. We found many amazing products that we know our educators and mothers will love!"
The show was also attended by a barrage of celebrities including hosts Lisa Rinna and Jason Kennedy, Kathryn Morris, Nazneen Contractor, Dorian Brown, and Anya Sarre. The consumer day also featured a book signing with Garcelle Beauvais' upcoming children's book series "I Am Mixed."
Actress Nazneen Contractor from "Star Trek: Into the Darkness" shared her experience and stated, "PLUSH was a wonderful, inspiring and educational event catering to all our little one's needs. I was so happy to participate and can't wait until the next show!"
The 2013 PLUSH Show was held at the Hyatt Regency Century Plaza this past weekend, showcasing business and consumer days, a first for the juvenile industry. The sold out business-to-business days featured world-renowned companies and manufacturers such as Maclaren, Romina and AFK as well as newcomers like Go Mama Go and Pura Stainless. The show wrapped with the consumer day, open to the general public and featured raffles prizes worth over $25,000, innovative products and celebrities sightings.
The overall success of the show is slated to continue to the upcoming PLUSH 2013 Vegas Show in October. PLUSH is forecasted to bring the highest quality products in the juvenile industry in order to exhibit and expand businesses in an efficient manner.
About PLUSH
PLUSH is a baby and toddler trade and consumer show dedicated to all the posh and eco-conscious retailers and parents who are continually setting the next big trend. Unlike other juvenile shows in the industry, PLUSH sets itself apart by being one step ahead, and selecting vendors that are worth the time and consideration. Jina Park uses endless research on what today's modern parents are seeking and finds the best, most innovative, eco-friendly, and luxurious products on the market, and places them all in one location for retailers, consumers, and media. PLUSH adds the incredible dimension of entertainment and mainstream media coverage and A-list celebrity marketing opportunities to a juveniles industry show. PLUSH 2012 had The Honest Company's Jessica Alba as their title sponsor. PLUSH 2013 included celebrity hosts Jason Kennedy and Lisa Rinna, with celebrity guests including Garcelle Beauvais and Kathryn Morris.