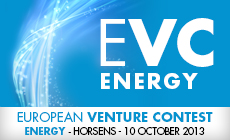 (PRWEB UK) 12 June 2013
On October 10, European Venture Contest Energy (EVC Energy) will take place at Vitus Bering Innovation Park, in Horsens, Denmark. The event aims to unite 30 promising startups active in the field of renewable energy who will pitch their innovation, developments and needs to a jury of business angels, VCs, and corporate investors. The contest is strongly focused on providing funding and match-making opportunities for the presenting companies.
Aster Capital, Total Energy Ventures, BP Alternative Energy, The Dow Chemical Company Co., Robert Bosch Venture Capital, SEED Capital, Greencoat Capital LLP, Emerald Technology Ventures AG, Entrepreneurs Fund Management LLP , and Clean Capital and many more are already confirmed in our list of attending investors!
Interested to join? Sign up before July 31 at http://www.e-unlimited.com/evcenergy.
The EVC Energy is an initiative of Europe Unlimited and is supported by Insero, Invest in Denmark, City of Aarhus and City of Horsens.
The EVC Energy 2013
This event convenes top entrepreneurs, investors and experts from the renewable energy sector. The program has been designed to enable knowledge exchange and business collaboration as well as to build an innovation network throughout Europe within the sector. The event is set up to maximize on personal interactions and is complemented by industry discussion panels and presentations from corporations and fast-growing companies.
Applications from prospective presenting companies will be accepted until August 23, 2013. All applicant profiles will be reviewed by a Selection Committee and the 30 best rated companies will be invited to pitch their business proposals live at the contest event.
About the EVC Energy
Being part of the European Venture Contest, the EVC Energy is a specialised event where a select group of renewable energy entrepreneurs has up to eight minutes to convince a panel of investors of their innovative technology, their scalability and business potential. After this 'pitch', investors provide strategic feedback to the entrepreneurs and have a chance for Q&A.
The Award Winners (Top 25%) of the EVC Energy will qualify to continue along the European Venture contest, a pan-European contest of venture events that gathers the best of each edition to join the European Venture Summit, Europe's largest venture capital match-making event, that takes place in December 2013. In addition to that, the award winners will get direct access to Nordic Venture Forum in November 2013.
William Stevens, CEO of Europe Unlimited commented, "Innovation increasingly is the lifeblood of Europe, and in these challenging economic times, it is even more important to do all in our power to boost it further. The opportunities for growth in the energy and utilities sectors should offer good potential to start-up entrepreneurs and investors alike."
About the Organizer
Founded in Brussels in 1998, privately-owned Europe Unlimited S.A. provides event and online matching platforms between emerging innovative companies and investors across Europe and its regions, sectors and stages, notably bought together in the European Venture Contest (in its 9th edition). Our clients are governments, public-private clusters, corporate and financial investors as well as advisory firms. http://www.e-unlimited.com
In 2012, 850+ applications were reviewed online by investors, 500+ startups pitched and 130 made it to the Final of European Venture Contest and the European Venture Summit 2012. To date, Europe Unlimited helped SMEs raising more than Euro €1.5 billion and promoted more than 2,500 entrepreneurs.