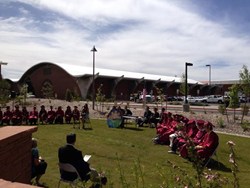 I hope after seeing me and how far I've come, I can be an inspiration to them
Flagstaff, Arizona (PRWEB) June 14, 2013
After almost a year of sobriety, June 15 marks the graduation of Brendon Foley from the Back2Basics Program, just two weeks after accepting his diploma from Ponderosa High School in Flagstaff. Roy DuPrez, CEO and Founder of Back2Basics, was one of the many supporters at Foley's graduation. "This is the ideal scenario—helping residents wrap up and finish things they couldn't do on their own. I'm so grateful to see them complete milestones like this… sober," DuPrez states.
Foley came to Flagstaff for the Back2Basics program in early June of last year. After running away from home and living on the streets, just weeks before he was supposed to graduate high school in his hometown of Reno, Nevada, Foley knew it was time to get his life in order. "I've struggled with maintaining good grades my whole life—mostly because of using and drinking." Folley goes on to say, "It took me a while, but I've finally come to realize that when you don't drink and do drugs, you accomplish things. Back2Basics taught me how to live a sober life, and I've accomplished things I never thought I could."
The Back2Basics Treatment Center is an intense combination of outdoor adventure, 12-step work, culinary classes, individual and group therapy, and Kung-Fu. Foley spent the first six months of the program focused on outdoor adventure as a sort of therapy, after which he got an internship at a local coffee house, and worked on completing his high school degree. "Interning at Late for the Train and going back to high school has gotten me in the routine of not using. I learned how to do things differently this time around," Foley explains.
After graduating the program, Foley plans to stay in Flagstaff and intern at Back2Basics, while taking courses at Northern Arizona University for Fire Science. He eventually hopes to become part of the Back2Basics staff. "I connect and relate to the residents here. I am a perfect example of what sobriety can look like!" Foley exclaims. "I hope after seeing me and how far I've come; I can be an inspiration to them."