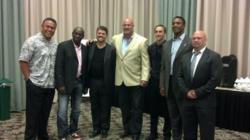 I won't rest until you sleep.
Phoenix, AZ (PRWEB) June 12, 2013
Recently, Dr. Bradley Eli partnered with Pro Player Health Alliance (PPHA) to "Tackle Sleep Apnea" with NFL greats. Part of the campaign is traveling to across the country to promote awareness. The PPHA national campaign has already treated over 150 former NFL players. Many players have been loyal and outspoken advocates of spreading awareness of the deadly disorder across the country with David Gergen, President of Pro Player Health Alliance. After hosting a successful event on May 21, Dr. Eli is continuing his own awareness campaign through radio, television and even more public events in the next nine weeks. In addition to educating the public, Dr. Eli will be opening multiple offices in the near future.
Many people are unaware that they need to seek treatment as it has become customary for individuals to feel tired throughout the entire day. This is due to the stress put on the body from being caused to not breathe up to 10-15 times per hour while asleep. Dr. Eli says, "I'm shocked at the number of people who accept poor sleep every night as normal. It doesn't have to be that way now—there's no reason to walk around tired all the time." He is so passionate about his work, he say he "won't rest until you sleep".
According to the National Commission on Sleep Disorders Research, about 38,000 deaths occur in the US on an annual basis that are related to sleep apnea making it the "Silent Killer". Former Arizona Cardinals player and Pro Player Health Alliance member Mark Walczak, "My mission is to spread public awareness. I want to get all current and former NFL players screened for this condition…" Since joining PPHA, Mark and other Pro Player Health Alliance members have been the means for treatment of over 150 professional athletes and have referred hundreds more to doctors across the country.
As one of the country's most experienced and well-known doctors, Dr. Bradley Eli provides all nonsurgical solutions to sufferers of the "Silent Killer" that are available on the market. Dr. Eli will find a way to treat any patient even if it means trying every treatment, and is one of the only doctors who follows up with the patient after issuing a solution. Dr. Eli says, "We want 2013 to be the year we raise awareness of sleep disorder breathing to the community of women and men." With the help of PPHA, Dr. Eli has developed the reputation of being "The Guy" to go to for treating sleep apnea. To contact Dr. Eli in the southern California area, visit http://drbradeli.com and to learn more about Pro Player Health Alliance visit http://proplayersleep.com
About David Gergen
David Gergen, CDT and President of Pro Player Health Alliance, has been a nationally respected dental lab technician for over 25 years. He received the award for "The Finest Orthodontic Technician in the Country" given by Columbus Dental in 1986. He also has been appointed chair of the dental wing of the American Sleep and Breathing Academy a national interdisciplinary academy dedicated to sleep training and education with over 60,000 members. He has worked for some of the pioneers in the orthodontic and sleep dentistry fields. One of his proudest achievements is receiving The National Leadership award for Arizona Small Businessman of the Year in 2004.
About Dr. Bradley Eli
Dr. Eli earned a post-doctoral Master's Degree at UCLA where he received advanced training in sleep disorders. He remains the only expert with this unique skill set in the San Diego region. Dr. Eli is on the hospital staff at Scripps Memorial Hospital La Jolla and UCSD. He is a member of numerous professional associations including the American Academy of Sleep Medicine and the American Academy of Dental Sleep Medicine. He holds multiple patents in the fields of both sleep and pain.
About Pro Player Health Alliance
The Pro Players Health Alliance (PPHA) is an organization dedicated to helping former NFL players, through providing testing and treatment options for those who suffer from sleep apnea. In addition, the PPHA is dedicated to integrating education and raising sleep apnea awareness, in a fun and memorable way. In addition to the campaign, the PPHA is dedicated to testing and getting people treated who suffer from sleep apnea. The PPHA was created by David Gergen, President of Gergen's Orthodontic Lab and Former NFL legends.