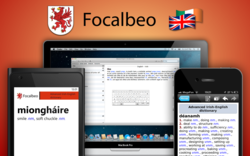 DUBLIN, Ireland (PRWEB UK) 12 June 2013
Paragon Software Group, a leading software developer for mobile devices and desktop computers, in cooperation with the Irish publisher Focalbeo, announces the release of Focalbeo dictionaries (Standard and Advanced editions) for Mac OS X, iOS and Windows Phone. Focalbeo English-Irish-English series were researched and compiled over a period of six years and are the most comprehensive dictionaries of its kind available on the market. The standard edition includes 113,000 headword translations. The advanced version contains 198,291 headword translations with the total amount of words over 1.2 million.
Focalbeo dictionaries include invaluable grammatical help, numerous contextual hints and explanatory sentences that would especially be useful to people with a basic knowledge of grammar and syntax. The user can cross-reference fast and accurate translations for any word in the app by simply clicking on it. The Focalbeo dictionary contains all modern Irish terms not found in other Irish language dictionaries, and is the most up-to-date dictionary available. The Focalbeo dictionary also includes acronyms, Irish names, surnames, place names and the names of many GAA clubs. The desktop version provides pop-up translations for words in any text document by just hovering the mouse over the word.
Key features:

List of similar words in case of misspelling
Wildcard Search if you are unsure of the exact word spelling. Use "?" and "*" symbols to replace the missing letters
Morphology module to translate English words in any grammatical form
Search for anagrams (e. g., tab-bat)
Hyperlinks between articles and directions
Audio pronunciations recorded by native English speakers
Flash Card Quiz to memorize new words and test your knowledge as many times as you wish
Favorites - to quickly access frequently searched words
Search History to revise your recent translations
Built-in dictionary catalog for in-app purchases
Improved user interface for your better experience
Enlarge or reduce font size for your comfort
No Internet connection required: purchase a dictionary once and use it without any additional expense
Availability:
The Focalbeo dictionary for iOS is available inside the "Slovoed Dictionaries" app by selecting "English-Irish dictionary" in the built-in catalog https://itunes.apple.com/app/id582920453?mt=8, for Mac OS X at https://itunes.apple.com/app/id638178026?mt=12 and for Windows Phone at http://www.windowsphone.com/en-us/search?q=focalbeo. A special 50% off introductory price will be available on all Focalbeo dictionary apps from June 12th through June 16th, 2013.
Compatibility: iOS 5 and later. Mac OS 10.7 (Lion) and later. Windows Phone 7 and later.