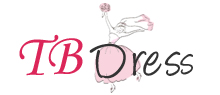 (PRWEB) June 12, 2013
Since TBdress.com, a leading women's dress company, released its collection of 2012 homecoming dresses last year, the company has received many positive reviews online, and its sales turnover has increased a lot. Today, TBdress.com releases its new collection of homecoming dresses 2013, and launches a promotion of homecoming dresses, up to 75% off.
The homecoming dresses from TBdress.com cover a wide variety of designs. TBdress.com's dress professionals have incorporated 2013's new trends in their outfits. TBdress.com knows that every lady wants to look beautiful on a special party, and TBdress.com is ready to provide each lady quality trendy designs with speedy delivery.
"We are excited to launch the promotion, and make our homecoming dresses available to more people. We have many designers who are capable of creating good- looking products. Please note that the promotion is valid for two weeks only, ending on June 23, 2013," says Edmond Liu, a spokesman for the company.
TBdress.com is a leader in the industry offering many different special-occasion dresses at affordable prices. Its products include wedding dresses, cocktail dresses, evening dresses, and more.
About TBdress.com
TBdress.com is offering extensive and stylish collections of wedding dresses and other special-occasion dresses at acceptable low prices, and its products include a wide range of wedding dresses, wedding lingerie, evening dresses, prom dresses, and more. They have vowed to provide their own wedding dresses without sacrificing the top-quality materials and fast delivery.
More details about corset and lingerie, please visit http://www.tbdress.com