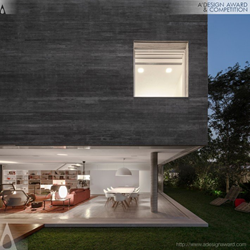 Como, Italy (PRWEB) June 15, 2013
A' Design Award and Competitions are pleased to share that the work House by Studio MK27 has been awarded with famous Platinum A' Design Award in Interior Space and Exhibition Design Category and marked as a winner by the transnational jurors of the A' Design Award & Competition within numerous designs.
Details of House project
The "House" was developed as a Residential house project that represents a perfect cubic volume. Built in raw materials such as concrete and perforated metal sheets, its interiors were designed under the same spirit together with the built-in custom made furniture. The interiors pallet is mostly combined of white and earthy reddish colors, always represented by rich textures and materials. The furniture and lighting are a mix of contemporary trends and classic designs representing a fusion of Brazilian and European styles.
To learn more about this project, please visit: http://www.adesignaward.com/design.php?ID=28849
Project Members
House project was realized by Beatriz Meyer, Carlos Costa, Carolina Castroviejo, Diana Radomysler , Eduardo Chalabi, Eduardo Glycerio, Eduardo Gurian, Elisa Friedmann , Gabriel Kogan, Lair Reis, Laura Guedes, Luciana Antunes, Marcio Kogan, Marcio Tanaka , Maria Cristina Motta, Mariana Ruzante, Mariana Simas, Oswaldo Pessano , Renata Furlanetto, Samanta Cafardo and Suzana Glogowski
The Platinum A' Design Award
The Platinum A' Design Award is a prestigious award given to top 1% percentile designs that has carried out an exemplary level of sublimity in design. The designs are judged by a panel of three different jury which is composed of Academic, Professional and Focus Group Members. The designs are evaluated with score normalization to remove any biases and are voted on aspects such as functionality, ergonomics, engineering, presentation, innovation, usability, fun details, technology, and any other specific points that could be considered, each of these points are further weighted for different jury groups.
About A' Design Award and Competitions
A' Design Award and Competitions, aims to highlight the excellent qualifications of best designs, design concepts and design oriented products. A' Design Award and Competitions are organized and awarded annually and internationally in multiple categories to reach a wide, design-oriented audience. Learn more at: http://www.whatisadesignaward.com.