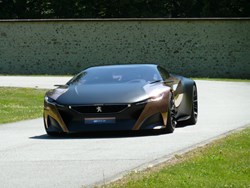 Peugeot has taken part in previous Goodwood Festival of Speed events, but this year, we're really pulling out all the stops to display our most powerful, exciting and innovative models
(PRWEB UK) 13 June 2013
The new Peugeot Onyx Concept Car will get its first public dynamic demonstration at the Goodwood Festival of Speed 2013.
The 600bhp supercar will be centre-stage at Peugeot's stand at Goodwood next month, ably supported by a high-performance cast including the suave new RCZ Sports Coupe, luxurious 208 XY and speedy Peugeot 208 GTi.
And as well as wowing Goodwood crowds with new cars and dynamic driving displays, Peugeot is offering visitors the chance to actually surf on its stand.
Peugeot is a key sponsor of the 2013 Goodwood Festival of Speed, which is now in its 20th year. To celebrate, Peugeot is set to make its Goodwood 2013 stand bigger and better than ever before.
The Peugeot Onyx Concept Car will break the supercar mould at Goodwood, with a dynamic demonstration of its powerful capabilities. Whilst most supercars are made to look pretty, Peugeot has engineered the Onyx to deliver pure power and performance, combined with incredible design aesthetics and robust green features.
The Onyx boasts a svelte carbon fibre shell, with 3.7 litre V8 HDi FAP diesel-electric hybrid engine. Peugeot's intelligent HYbrid4 technology makes the most of physics, storing kinetic energy in lithium-ion batteries, and redeploying it to enhance acceleration.
This feature alone helps boost the Peugeot Onyx by 80bhp, and means there is less than 2kg per horsepower – so the Onyx delivers great performance without any necessary alternations to its beautiful, streamlined design.
NACA ducts in the trademark Peugeot double-bubble roof supply the required intake to push the diesel V8 engine to transmit 600bhp to the rear wheels, via a six-speed, sequential gearbox.
The outside of the Onyx is as beautiful as its inner-workings: with hand-finished components and mirror-polished pure copper wings and doors, which are left unprotected to build up a patina over time.
The new Peugeot 208, which took its bow at the Goodwood Festival of Speed last year, is back for 2013 in style: the new 208 GTi hot hatch is lighter and more powerful than its predecessor.
The 208 GTi features a 200bhp THP petrol engine, and can reach 62mph in just 6.8 seconds.
With top speeds pushing past 143mph, the 208 GTi features wider tracks (10mm at front and 20mm at rear) and low carbon emissions, around 139g/km – despite delivering up to 47.9mpg.
Meanwhile, Peugeot's commitment to "Motion and Emotion" will be embodied by the exciting surf machine on its stand. Visitors can experience the thrills and spills of surfing as part of Peugeot's "Enjoy the Ride" promotion for the 208 GTi.
"Peugeot has taken part in previous Goodwood Festival of Speed events, but this year, we're really pulling out all the stops to display our most powerful, exciting and innovative models," said Nick Crossley, Manager Brand Advertising, Partnerships & Sponsorship, at Peugeot UK.
"From the incredible Peugeot Onyx Concept Car to the new 208 GTi, Peugeot continues to create beautiful cars that combine the best in design with forward-thinking engineering."
"We wanted to share the motion and emotion involved with Peugeot's performance cars with visitors at Goodwood, and felt the surf machine was a great way to let people experience the speed, fun and thrill of driving a 208 GTi in a unique way."
Peugeot will be at the Goodwood Festival of Speed 2013 from 11th to 14th July. More announcements about Peugeot at Goodwood are expected in the weeks before the event.
To keep up with the latest, get more information on the Onyx Concept Car or to subscribe to the Peugeot newsletter, visit http://www.peugeot.co.uk/goodwood-festival-of-speed
For more information, please contact: Kevin Jones, Public Relations Manager, Peugeot UK, on +44 (0)2476 884215, or email kevin.jones(at)peugeot(dot)com.
About Peugeot
French car manufacturer Peugeot is a corporate sponsor of the Goodwood Festival of Speed 2013. Peugeot creates vehicles which invoke 'Motion & Emotion', from high-performance supercars to industry-leading superminis and hot hatchbacks. Popular Peugeot models include the 107, 207, 3008 and 308, with exciting new additions for 2013 including the concept Onyx car, RCZ Sports Coupe and 208 GTi.
About Goodwood Festival of Speed
Goodwood is one of the world's biggest celebrations of motoring, which is now in its 20th year. The festival officially started in 1993 and has grown to become a truly global event. Each Goodwood Festival of Speed features stunning supercars and Formula One drivers, steam-powered forebears and vintage vehicles. Top manufacturers use the event to display their latest models – featuring state of the art technology and cutting-edge design – whilst crowds are entertained by music, challenges, races and air displays. The Goodwood Festival of Speed 2013 takes place from July 11 to 14 at the Goodwood House estate, Chichester. Tickets must be bought in advance.