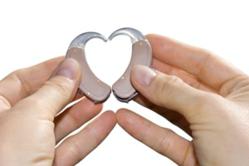 This new five-year strategy along with the increase of funds in biomedical research is a solid contribution to the future of all of us.
Bolton, UK (PRWEB UK) 18 June 2013
According to the charity's latest available statistics, there are more than 10 million people in the UK with some form of hearing loss and 1 in 10 adults have tinnitus (2). The organization is now aiming to reach local communities across the Country with high-quality information, support, services and products whilst keeping the focus on its long-term goal of finding a cure through biomedical research (1).
Over the next five years Action on Hearing Loss will continue its awareness-raising campaign, in order to put hearing loss on the national agenda. The strategy aims to extend the charity's local presence whilst maintaining their offering of support to local communities with new hubs, which will be responsible for effectively coordinating the charity's community-based volunteering and fundraising activities to help improve its current offering.
Chief Executive of Action on Hearing Loss, Paul Breckell, said:
"We are delighted to launch our new strategy which focuses our future work on areas where we know the needs of people with diagnosed hearing loss or tinnitus are greatest, and where we have real potential at both national and local levels to make impactful improvements in their everyday lives.
"Over the next five years, we'll be working tirelessly towards meeting the aspirations of our supporters to ensure that future generations of people with hearing loss or tinnitus do not need to live with the isolation or substantially reduced life chances that many experience today."
According to NHS, prolonged exposure to loud noises is among the most common causes of hearing loss (3). The hearing damages provoked by noise-induced hearing loss (NIHL) normally increase over time, which is the reason why it is difficult for a person to understand when they started suffering from this condition. Noise exposure is the main cause of permanent hearing damage in the workplace, the World Health Organization says (4). It is also known as Industrial Deafness or Occupational Deafness.
Symptoms to look out for include:
-Inability to follow conversations at normal volumes
-Difficulty with high-pitched sounds such as young child speaking or birds singing
-Having to raise TV or radio volumes
-Experience a ringing or buzzing sound inside the ear, known as tinnitus.
Commenting on the news, Mr John King, Business Development Manager at Asons Solicitors, said that:
"For over a century Action on Hearing Loss has been helping millions of people across the UK. This new five-year strategy along with the increase of funds in biomedical research is a solid contribution to the future of all of us.
Hopefully, awareness will rise among employers too as –according to 'The Control of Noise at Work Regulations 2005'- it is their duty to keep workers safe, it's in their best interests, so they can avoid getting caught up in lengthy personal injury claims processes."
Those who have been experiencing some of the noise-induced hearing loss symptoms should not hesitate to report their medical condition to the employer and visit their GP. Also, seeking specialist legal advice is crucial when dealing with an Industrial Deafness diagnosis in order to prove any employer's negligence and make a Hearing Loss Claim.
For further information on pursuing damages for noise induced hearing loss, visit Asons Solicitors at http://www.asons.co.uk, or contact them directly on: 01204 521 133
(1) Action on Hearing Loss – Press Release (05/06/2013) actiononhearingloss.org.uk/news-and-events/all-regions/press-releases/we-are-launching-our-new-five-year-strategy.aspx
(2) Action on Hearing Loss - Statistics actiononhearingloss.org.uk/your-hearing/about-deafness-and-hearing-loss/statistics.aspx
(3) NHS Choices – Hearing Impairment – Causes (28/09/2011) nhs.uk/Conditions/Hearing-impairment/Pages/Causes.aspx
(4) Nelson D, 2005. The Global Burden of Occupational Noise-Induced Hearing Loss who.int/quantifying_ehimpacts/global/6noise.pdf

About Asons Solicitors:
Asons Solicitors is a Bolton-based law practice that specialises in personal injury and industrial disease claims. Founded by brothers Imran Akram and Kamran Akram, Asons Solicitors has developed to become a young and dynamic law firm that delivers practical solutions to clients in times of difficulty. Their continued focus on their staff has seen them awarded with the Investors in People "Gold Award"; which is reflected in the professional and personable approach they take in working with clients. They strive to grow and to develop, and their supportiveness and attention to detail ensures that their clients use them time and again.
For further information contact:
Email: info (at) asons (dot) co.uk
Website: http://www.asons.co.uk