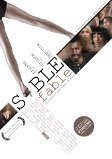 New York (PRWEB) June 14, 2013
The 17th Annual American Black Film Festival (ABFF), is set to showcase the world premiere screening of 'SABLE FABLE' movie from multi-award winning, UK producer/writer and director Stephen Lloyd Jackson in Miami's South Beach.
The American Black Film Festival (ABFF) film program is primarily composed of world premieres of narrative, documentary and short films. As such, it is the leading film festival in the world for African American and urban content. Since its inception, the ABFF has showcased more than 600 films, rewarding and redefining artistic excellence in independent filmmaking.
Writer/director Stephen Lloyd Jackson states, "I relish the opportunity that great events such as the 'ABFF' offers to independent black filmmakers. This is a very, very hard business to break into and it's just as hard to find a global enterprise such as 'Film Life, Inc' the owners of the 'ABFF', whom are willing to go against the status quo and deliver a window of opportunity into what I consider to be a 'closed shop' industry."
Jackson is no stranger to the 'ABFF'. His first movie in SAR Productions' 'sex and race' trilogy, 'David Is Dying' scooped two grand jury prize awards at the 15th ABFF in 2011 for best male actor - Lonyo Engele and best director - Stephen Lloyd Jackson.
In 'Sable Fable' Jackson continues on the sex and race theme with a dark tragedy piece encompassing four couples from different walks of life that intertwine with one another through a series of unfortunate events.
'Sable Fable' will be screening at the 2013 17th American Black Film Festival in Miami's South Beach. The first screening will take place at the Colony Theatre, 1040 Lincoln Rd, Miami Beach, FL 33139, on Thursday 20th June 2013 at 10am and the second screening will take place at the Miami Beach Cinematheque, 1130 Washington Ave. First Floor, South Side (Old City Hall) Miami Beach, Florida 33139 on Friday 21st June.
For more information, visit the ABFF's website: http://abff.com/festival/index.php.