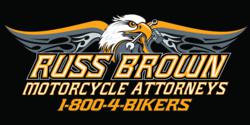 Sturgis, South Dakota (PRWEB) June 13, 2013
This year will mark the 73rd Annual Sturgis Motorcycle Rally and there will be plenty of scenic rides, music and fun activities for all rally enthusiasts who make the trip to the Black Hills. The Lawyers from Russ Brown Motorcycle Attorneys will be on hand to enjoy the festivities and honor BAM members with a special VIP Appreciation night at the Sturgis Buffalo Chip.
The Sturgis Buffalo Chip is 'Base Camp' for many rally goers. The 'Chip' offers a variety of camping options including cabins, a variety of food to choose from, a coffee shop, vendors, a zip line, the Guns of Freedom and, of course, world class entertainment. This years musical acts include ZZ Top, Lynyrd Skynyrd, Queensryche, the Cult, Buckcherry, Kid Rock, the Doobie Brothers, Toby Keith, Rob Zombie, Machinehead, Halestorm, and much more. The Sturgis Buffalo Chip is the perfect place to set-up camp, ride in the day then hunker down for the night with the best entertainment the Sturgis Rally has to offer.
Russ Brown Motorcycle Attorneys BAM VIP Night at the Sturgis Buffalo Chip, will be held in the Top Shelf Suite. Widely touted as having the 'best seats in the house', the Top Shelf Suite will host ninety-five lucky BAM members on Monday, August 5th, and performing on the Main Stage that night will be Kid Rock and the Doobie Brothers.
Motorcycle Lawyer Russ Brown created BAM more than 35 years ago in an effort to offer motorcyclists across the USA some peace of mind when stranded in an emergency roadside situation. BAM has blossomed into a rider helping rider program with close to 2 million members. BAM, the largest organization of its kind, offers members free 24 hour emergency roadside assistance, a 24hr emergency toll free hotline, an emergency ID card and free legal advice if injured.
Over half a million bikers make the trek to South Dakota in early August every year to attend the Sturgis Motorcycle Rally and BAM members enjoy the added comfort of being backed by a law firm that specializes in the protection of bikers and their rights along with the support of a huge nexus of motorcyclists - all just a phone call away.
To learn more about Russ Brown Motorcycle Attorneys BAM VIP Appreciation Night at the Sturgis Buffalo Chip head to RussBrown.com. BAM works because of the dedication of its members and what better way to honor that than with a VIP Appreciation night during the 73rd Sturgis Motorcycle Rally!
Congratulations to Russ Brown for being slated for induction into the Sturgis Motorcycle Museum Hall of Fame August 2013. Russ Brown Motorcycle Attorneys have been serving the Nation's riding community for over thirty-five years.