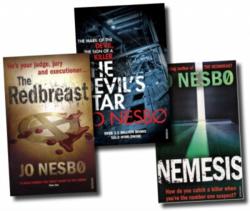 (PRWEB UK) 14 June 2013
The Jo Nesbø collection is all about murder mysteries investigated by detector Harry Hole. The Jo Nesbø Collection 3 Books Set Pack is packed full of suspense revolving around the murder cases. The collection includes:

The Devil's Star
Nemesis
The Redbreast
In Devil's Star, detective Harry Hole deals with solving the murder case of a woman and similar cases in an Oslo flat. In Red Breast he investigates an unusual murder of a soldier and in Nemesis Harry deals with bank robbery mysteries.
Jo Nesbø is a bestselling Norwegian author and musician. He was born in Oslo and grew up in Molde. Nesbø graduated from the Norwegian School of Economics with a degree in economics. Nesbø is primarily famous for his crime novels about Detective Harry Hole, but he is also the main vocals and songwriter for the Norwegian rock band Di Derre. In 2007 Nesbø also released his first children's book, Doktor Proktors Prompepulver.
Snazal is a global book distributor, and supplies book stores and small businesses with titles about topics ranging from history to gardening. The site allows customers to buy individual titles or titles in bulk, and features more than 2.2 million books.
About Snazal
Since 2006, Snazal has grown to become a worldwide book distributor, supplying independent book stores and other small business venues with specially selected, hand picked titles. Snazal offers more than 500,000 books on a variety of topics, ranging from children's interests to history, to the general public and trade communities. To date, this UK-based supplier has worked with prestigious distributors and publishers to serve more than one million customers.