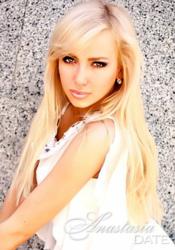 We were delighted to receive such glowing praise and top ranking scores from our members
(PRWEB) June 14, 2013
In a recent member survey, millions of American men confirmed Anastasia Web as their top choice for high quality online dating. Anastasia Date is the popular international dating site providing successful American men with the opportunity to connect with beautiful, charming ladies from abroad.
The survey results showed that members regard the Anastasia Web services as safe, secure, and of the highest quality. The company has an ever growing membership of over 4 million members, a large majority of whom completed the member survey giving the company high ratings in all aspects of their work. The survey results have provided important client feedback the AnastasiaDate team will use to make further improvements to member facilities.
Chief Communications Officer of AnastasiaDate, Lawrence Cervantes said, "Anastasia Web members are sophisticated people. They demand the best in life and this includes their online dating experiences. We decided to issue a survey to members to get feedback on how we are performing and identify areas where we can make further improvements to the online dating service."
Mr. Cervantes continued, "We were delighted to receive such glowing praise and top ranking scores from our members! It is a reward for the hard work and dedication of the entire Anastasia Web team. We now plan to collate all the member suggestions to explore what further improvements can be made to the service."
The social media platforms used by Anastasia Web were highlighted as popular in the survey. However the most popular dating facility by far is the video chat which allows men to talk and get to know the women they are interested and attracted to.
Members report great dating successes as a result of the Anastasia Web video chat functionality. Men are to connect with beautiful women, live on camera. They can hear their voices and engage in interesting conversations with them. Members say it has added a dimension to their dating experience which makes meeting a lady from another country fun and enjoyable.
Anastasia Web is well known as a reliable source for beautiful ladies who are extremely suitable candidates for discerning American men. The survey results back this up and confirm them as an internationally popular choice for online dating.
Anastasia Web members are able to browse through literally thousands of profiles, to send messages and when they find someone and make a connection, if that initial spark of romance is there, they can chat and get to know each other.
AnastasiaDate has been providing a high quality, five star service for more than twenty years. Millions of satisfied clients have found romance as a result of their carefully designed and well managed online dating service.
On the busiest days, the company can record over 1 million conversations between happy online daters. Anastasia Web continues to grow in popularity too; membership registrations from men and women are growing on a daily basis from people all over the world who are eager to meet their perfect partner.
While so many international businesses are struggling in an extremely difficult world economy, AnastasiaDate are enjoying success and growth as a result of their high standards and state of the art technology. It is no surprise they are regarded as one of the world's top dating sites.
About Anastasia Date
AnastasiaDate is a premium, international dating site helping singles to find romantic companions with beautiful women from all over the globe. The company now enjoys over 4 million international members. Their popular website attracts over 10 million visits per month. AnastasiaDate provides their members with a safe, secure, and pleasant online environment for members to meet their romantic partners. The company is known for the high levels of customer service to their international clientele and their state of the art website and social media sites, which include video chat and a popular mobile app for Google Play store.