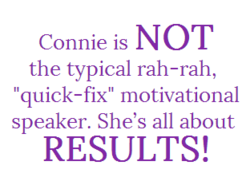 Best speaker ever! One hour of Connie is NOT enough. Life affirming, marvelous humor, amazing insight. She passed along realistic solutions for today's industry. We want her back again! - Coldwell Banker
Dallas, TX (PRWEB) June 12, 2013
Human Relations Expert and Sales and Motivational Speaker Connie Podesta delivers what real estate sales professionals need most in a changing market with her trademark, tell-it-like-it-is approachability and her innovative insights that take real estate agents right inside the minds of today's savvy buyers and sellers. With an unconventional, no-slide-show, laugh-while-learning presentation, it's no wonder she's invited back time and again and is considered an industry favorite.
"Best speaker ever! One hour of Connie is NOT enough. Life affirming, marvelous humor, amazing insight. She passed along realistic solutions for today's industry. We're bringing her back again!" - Coldwell Banker
"It's such an honor and privilege to be invited back by an organization so many times throughout my career and a thrill to be working once again with the leadership teams and family of agents for Coldwell Banker," says Motivational Speaker and Sales Expert Connie Podesta. "What I can share is that for real estate agents and brokers to set themselves apart as competitive forces to be reckoned and turn-to resources people can trust in today's market – they have to master the sales and people skills, tools and techniques to QUICKLY and EFFECTIVELY capture the attention, business, trust and loyalty of both NEW and PAST customers. There's no more room for passive practices or status quo thinking if you're to compete in this market. Salespeople have to be on their game, become exceptional communicators and committed to continued and CONSISTENT connection with their sphere, farm area and community."
Connie Podesta's innovative, high-energy keynotes break old boundaries for real estate conferences. Agents need more than rah-rah type motivation in what has been a constantly changing and often challenging market. The bottom line is that this industry is not about houses, homesteads or condos. It's about PEOPLE. And as a respected human development and change expert, Connie helps real estate professionals connect in ways they never thought of to develop powerful, long-standing referral networks of loyal customers and community following.
"When agents get out of 'chasing their next commission' mode and really embrace the care and fueling of their book of business by changing how they work with the PEOPLE in that book of business – that's when the commissions take care of themselves and agents can enjoy a much higher level of success and a whole lot less stress," shared Connie.
To succeed in a competitive real estate market, Connie teaches agents how to:

Go deep inside the mind of every prospective buyer and seller to connect in an extraordinary way
Identify the communication style of prospects within the first 30 seconds of meeting them
Adopt what it takes to increase listing inventory, market share and bankable bottom line
Understand how listing and selling style can make or break a deal and what you can do to change your results
An entirely new perspective on the topic of goal-setting
"Connie is much more than a motivational sales speaker," shares industry author Julie Escobar. "With humor and an identifiable approachability, she offers counter-intuitive insights, an unbounding energy and a gift for reaching every member of the audience. I love the way she teaches both salespeople and leaders to shake up their daily routine, step outside their comfort zones, and learn to focus on what really matters."
For more information on Motivational Speaker Connie Podesta's event schedule, real estate credentials and availability or contact her team today at 972-596-5501, or via email at info(at)conniepodesta(dot)com. You can visit her website online at http://www.conniepodesta.com.