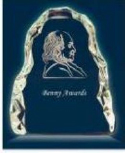 Philadelphia, PA (PRWEB) June 12, 2013
SMS Marketing Services, Inc. is named a winner in the 2013 Philadelphia Direct Marketing Association Benjamin Franklin Award for Direct Marketing Excellence competition in the Direct Mail - Business to Business - Creative Only - Other Services Category.
"To be awarded a Benny is an honor, and I'm pleased to be a 2013 recipient," stated Sarah Orlowicz, Creative Director, SMS Marketing Services, Inc.
The "Benny" competition has been a proud Philadelphia tradition for 39 years. A panel of direct marketing experts from the New England Direct Marketing Association judged this year's submissions and awarded 31 winners and seven honorable mentions in addition to naming the Thomas Black Memorial Best of Show. SMS was also the winner of the PDMA's first People's Choice Award for their entry: "Bigger Than Life," submitted by The Sama Agency (http://www.thesamaagency.com), a division of SMS Marketing Services, Inc. (http://www.sms-inc.com).
About the PDMA:
The Philadelphia Direct Marketing Association (http://www.the-pdma.org) is your personal connection to everything that's happening in direct marketing in the Greater Philadelphia area and beyond. Our region is a hotbed of direct response creativity and innovation and home to thousands of the nation's best-known direct marketers, agencies, creative talents, and suppliers.
About SMS Marketing Services, Inc.:
SMS Marketing Services, Inc. works with leading brands, agencies, brokers and Fortune 500 companies delivering extraordinary data-driven multi-channel marketing solutions. Leveraging data-driven strategies to innovate, compete, and capture value from deep and up-to-real-time information, SMS's data solutions of highly segmented marketing databases help refine the search for consumers who engage with brands. A leading provider of direct marketing lists—including SMS's Master Consumer file of 240 million U.S. consumers—SMS also boasts the largest instatement insert agency/broker in the nation. SMS's traditional list management, brokerage, list fulfillment divisions manage more than 700 list properties and broker for over 200 mailers.
For more information, visit http://www.sms-inc.com.