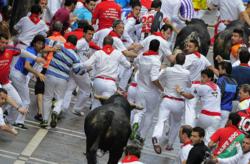 TravelHouseUK promotes global heritage for its international community of air travelers to plan their getaways ahead of schedule. This month the agency brings forth holiday packages to serve potential entrants for the San Fermin Festiva in Spain
(PRWEB UK) 12 June 2013
TravelHouseUK promotes global heritage for its international community of air travelers to plan their getaways ahead of schedule. This month the agency brings forth holiday packages to serve potential entrants for the San Fermin Festiva in Spain.
The San Fermin Festival is held every year between the 7th and 14th of July to commemorate the memory of Saint Fermin in Pamplona, Spain. The festival has been famed as a worldwide sport, with the general public engaging in a race against 6 chosen fighting bulls every morning. The entire locality is organized to establish a route for the event, with numerous professionals responsible for specified roles to ensure order and control. After the fighting bulls are lead to the bullring from the morning race, they are used for bullfighting the very same afternoon. Pyrotechnic firework displays add in to the festivities day and night, marking certain milestones to serve as a means of communicating signals of major milestones of the festival.
TravelHouseUK has provided cheap flights to Spain with numerous international air carriers for its clients based in the UK. The agency is utilizing offers under Air France, Iberia, Swiss Air and Alitalia for servicing its campaign of the San Fermin Festival.
Pamplona has been historically pulling in travelers far and wide to attend its main festival, which has its origins based from the commute of cattle owners across the city. Mainly starting off a dedication to saints, it gradually gained momentum over centuries to build upon a string of events highlighting local culture and entertainment. Among them all, the central aspect remained letting the bulls roam free to pursue the public through the streets to the bullring for the event.
The festival has remained an element of high prestige for Pamplona, as much of its events are chaired by the city mayor. Mass parades along with dances throng the streets day and night, playing mythical characters for exhibiting entertainment performances. Rituals have also evolved to sum up the series of events, such as the El Struendo event to raise a din of clamoring from the masses, as well as the melodramatic conclusion ceremony to have participants lighting candles at midnight on the 14th of July.
Pamplona has been the capital of the former kingdom of Navarre, and bears clear signs of authority with numerous archaic buildings as well as the arrangement of construction all across its areas. Although the festival is the central feature of the town, its natural garden walks and catholic heritage are favored landmarks for recreation and exploring purposes.