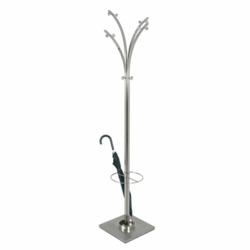 (PRWEB UK) 19 June 2013
FurnitureInFashion, one of the leading suppliers of hallway furniture, is pleased to announce a successful deal with Crew Clothing Co to supply coat stands. Crew Clothing ordered bulk coat stands from FurnitureInFashion to be used in displaying clothing lines in style. FurnitureInFashion through this deal has achieved a major landmark as Crew Clothing is a popular UK-based clothing brand with expansive business throughout the UK. Crew Clothing co-ordered coat stands in different materials from FurnitureInFashion including chrome, metal, plastic, and steel. FurnitureInFashion offers a wide range of coat stands in sleek designs and multipurpose functions. This has been the major contributing factor towards the success of this deal.
Crew Clothing Co UK is one of the major clothing brands for men, women, boys, and girls. Over the past 17 years, the company has been able to launch over 60 stores across the UK. The underlying appeal of the brand lies in the vibrant colors, striking designs, and quality of the fabrics. The company has attracted a loyal following of customers over the years. Crew Clothing has also been honored to sponsor some prestigious sporting and social, events such as the England Polo Team, The Whitebread Round the World Race, and Masters Tennis at the Albert Hall. The spokesperson of Crew Clothing said, "Crew Clothing has been in business for the past 17 years. Due to increase in demand, the company has expanded immensely over time. In order to create an attracting environment for customers and display clothing in style, the company has always bought the best quality clothes storing equipment. Coat stands are very important for the company, as a coat if presented in proper shape leaves a great impression on customers. In the recent past, FurnitureInFashion has made a remarkable impression with their hallway furniture collection. Their coat stands are very functional and durable, and Crew Clothing had a great business experience with them."
FurnitureInFashion offers elegant and highly functional coat stands that take minimal amount of space but provide plenty of storage space. These coat stands can easily organize jackets, coats, hats, and scarves. These coat stands can be incorporated in any space and can reflect style and taste of décor. The coat stands are available in different materials including metal, chrome, aluminum, and steel. Most coat stands provide 6 to 8 hooks for hanging coats, scarves, hats, and umbrellas. With sleek designs and multifunctional use, these coat stands are ideal for home and commercial use.
The Managing Director and CEO of FurnitureInFashion said, "FurnitureInFashion feels humbled and thrilled to be part of Crew Clothing's suppliers. The coat stands ordered by Crew Clothing will allow FurnitureInFashion to showcase its hallway furniture. This deal has given the company a way to expand its business clients in the UK. Crew Clothing is a renowned brand with an expansive network throughout England, which will give FurnitureInFashion an edge over its competitors. FurnitureInFashion is always looking for best business opportunities and is willing to work with Crew Clothing in the future."
To have a look at quality affordable hallway furniture online, and to place a pre-stock order, please visit the company website today at http://www.furnitureinfashion.net. The range of hallway contemporary furniture on the website is huge, delivery is fast, savings are massive, and quality is guaranteed.
About FurnitureInFashion
FurnitureInFashion is a UK-based online retail business. It supplies furniture items from its German-based warehouse and has a showroom in Bolton, UK. The company provides everything from umbrella stands, wall art and room dividers, to bedroom suites, bar stools, and computer tables. FurnitureInFashion offers free delivery within UK and is rightly proud of its excellent customer service. For further information and details about sales, please visit http://www.furnitureinfashion.net.