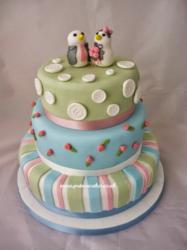 "Social Media Marketing is an essential pillar of the business, not an accessory, use it more often and use it well." Ciaran Connolly, Co-Founder of ProfileTree
London, UK (PRWEB) June 13, 2013
From Chef to Accountant to Cake Designer and Baker, the owner of Putnoe talks to ProfileTree about the business of making Beautiful Cakes.
When asked about her inspiration behind making cakes? She said "I started to bake before I could reach the worktop in my Mum's kitchen."
Her customers range from areas all over the world "I've had customers from Quebec as well as New York as well as from the local area."
Her advice to anyone starting their own business is "Research your customer base, do your costings, have a robust accounting procedure, make sure you're good enough at the service you wish to provide, network with other local businesses, publicize yourself."
Ciaran Connolly, Co-Founder of ProfileTree said "Social Media Marketing is an essential pillar of the business, not an accessory, use it more often and use it well."
Profile Tree's main goal is to help small business owners reach new customers every day with the most innovative online marketing tips and techniques.
About ProfileTree: ProfileTree is a free listing service where self employed and small business owner can create an online marketing profile. From Pencil or Portrait Artist to Self Employed Service Providers - anyone can create a skills profile on ProfileTree for free.
The website also enjoys sharing motivation photos for the self employed, helping with focus and drive. From professional wedding photographers to anyone offering a service - it can be listed online today.