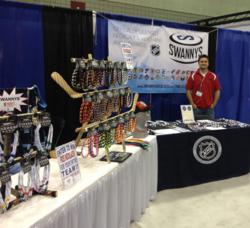 MInneapolis, Minnesota (PRWEB) June 12, 2013
Swannys, a Minnesota based company, is gaining some major leverage in the sporting good market. This June marks their 5th year in business and their future only looks brighter. Swannys creates handmade custom sporting accessories for a variety of athletes and fans. Initially, Swannys offered one product, a braided necklace made from hockey skate lace, but recently the company has expanded to carry a line of products including bracelets, lanyards and key chains.
Over the last five years, Swannys products have grown in popularity with athletes ranging lacrosse, football, baseball, and particularly hockey. The company has recently gained national exposure by being awarded the official license contract for the NHL. Swannys has a presence in retailers throughout the U.S. and Canada, including the NHL team pro shops and ice arenas carrying their products. Swanny's owner, Pete Swanson, says his goal this next year is to have all the NHL arenas carrying Swannys as well as big box stores. The company is expecting to continue to grow with local and national distribution.
Swannys allows customers to choose their favorite colors and teams to include in their customizable accessories. This provides a product that reflects each person's individual interests. Every unique product is made with premium hockey skate lace and polyester athletic lace. Swannys lets fans of all ages support their teams with inexpensive and unique products that are sure to get attention.
The success of Swannys didn't happen overnight; it took years of perseverance and dedication. Hand crafting hockey lace necklaces was a high school hobby for Swanson. In his spare time, he made necklaces for his friends, family members and teammates who all requested to have their own to show their love of the game. "I was putting new hockey laces onto my skates and wanted to use my old laces in some way. So, I made them into a necklace and wore it to hockey practice. By the end of practice I already had my teammates asking me to make them one," said Swanson.
To this day, Swanson is dedicated to crafting high quality products to satisfy every customer. He never guessed his pastime would evolve into such a successful business for himself. "I've always believed in hard work, following my dreams and never giving up. I believe in these values more than ever after celebrating five years in business. It's a dream come true."
Swannys, headquartered in Spring Park, Minnesota, creates handmade custom sporting accessories including bracelets, lanyards and key chains for a variety of athletes. The original Swannys necklace was handcrafted in 1999 by the company's founder, Peter Swanson after a high school hockey game using the lace from his skate. In June of 2008, the first Swannys necklace was sold and now their products can be purchased in sporting goods stores across the United States and Canada. For more information, visit SwannysNecklaces.com.