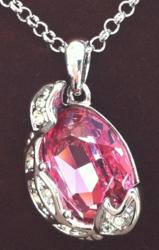 People are going to love these products! I just got one of the Swarovski necklaces and I love it and get compliments daily.
Bucks County, Pa (PRWEB) June 17, 2013
In April, Foretell announced the launch of their new age product site Inside Utopia where their customers could go and browse through the best new age products on the market. The feedback has been great so far and they are offering customers the chance to win one of the products during their birthday month just for calling in and speaking with a psychic.
PsychicsForetell.com has been offering their customers 5 complimentary minutes with a purchase during their birthday month for the past twenty-one years, but this year they wanted to offer something to really show their gratitude to their best customers by offering them one of these amazing products that they can enjoy on a daily basis.
One of the offered items is the very popular Constellation Swarovski Crystal Necklaces, normally ranging from $78 - $110, Foretell is giving it away for free to the best customer during their birthday month. The company is also allowing customers the option to choose from their aromatherapy section if they wish to pamper themselves with some of the wonderful bath products or enjoy the soothing ambiance of their aromatherapy candles. Lastly, Foretell will offer the choice of one of their products from Inside Utopia's health and wellness section for customers who are interested in healthy lifestyle.
Customer's who call to make a purchase to speak with a psychic during their birthday month will be automatically entered into a drawing to win any one product of their choosing.