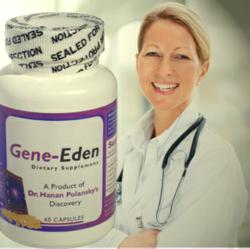 Congenital Cytomegalovirus Awareness Month provides us a great opportunity to increase our efforts and prove our commitment to providing the public with a scientific, all natural, safe and effective CMV remedy. - Mike Evans, polyDNA
Rochester, NY (PRWEB) June 14, 2013
During the month of June, polyDNA will be lowering the price of Gene-Eden-VIR by 50% for women planning to become pregnant and who have a latent cytomegalovirus (CMV) infection verified by a doctor.
polyDNA is a leading producer of natural CMV remedies. As the CDC notes, "CMV infection in a pregnant woman can cause birth defects and, in rare cases, death in infants infected before birth." (1) In fact, according to a study in the Journal of Clinical Virology, one of the leading causes of "permanent childhood hearing impairment (PCHI) is congenital cytomegalovirus (CMV) infection." (2)
When a woman with a verified CMV infection is planning to become pregnant and buys Gene-Eden-VIR at full price, she can then write in to polyDNA using the E-mail address provided on polyDNA's website. In that E-mail, that woman should provide a doctor's note regarding her diagnosis. polyDNA will then refund that woman 50% of the full price of her purchase.
Mike Evans of polyDNA said, "We've found that there is a large percentage of the public that prefer natural remedies for CMV related illnesses. We have such a remedy and we are constantly working to improve the ways that we can help the public through the use of that remedy. Since babies can end up with terrible birth defects due to their mothers' cytomegalovirus infection, Congenital Cytomegalovirus Awareness Month provides us a great opportunity to increase our efforts and prove our commitment to providing the public with a scientific, all natural, safe and effective CMV remedy."
Medline Plus notes that "Congenital cytomegalovirus occurs when an infected mother passes CMV to the fetus through the placenta. The mother's illness may not have symptoms, so she may be unaware that she has CMV." (3)
Because of these issues, early detection and prevention is important. The CDC notes that these women "may want to take steps to reduce their risk of exposure to CMV and so reduce the risk of CMV infection of their fetus." (4) Specifically, these women should wash their hands often with soap and water for 15-20 seconds, especially after changing diapers, feeding a young child, wiping a young child's nose or drool, or handling children's toys.
Additionally, they should not share food, drinks, or eating utensils used by young children, put a child's pacifier in the mouth, share a toothbrush with a young child, and they should avoid contact with saliva when kissing a child.
However, even though one abides by the CDC's guideline, preventing a CMV infection is hard. CMV is a common virus that infects people of all ages. Most CMV infections are "silent," meaning most people who are infected with CMV have no signs or symptoms.
A recent post marketing clinical study showed that Gene-Eden-VIR is effective against latent viruses. By helping the body's immune system target the latent CMV virus, people also lower their risk of developing symptoms caused by the latent CMV virus. (5)
Gene-Eden-VIR is effective against the latent CMV virus, each ingredient was chosen through a scientific approach. Scientists scanned thousands of scientific and medical papers published in various medical and scientific journals around the world to identify the safest, most effective natural ingredients that target the latent form of the Cytomegalovirus. (6)
To learn more about Gene-Eden-VIR, visit http://www.gene-eden-kill-virus.com.
References:
(1) http://www.cdc.gov/cmv/index.html
(2) http://www.sciencedirect.com/science/article/pii/S1386653209004235
(3) http://www.nlm.nih.gov/medlineplus/ency/article/001343.htm
(4) http://www.cdc.gov/cmv/risk/preg-women.html
(5) http://www.cbcd.net/Gene-Eden-VIR-Clinical-Study.php
(6) http://www.gene-eden-kill-virus.com/studies.php
###
polyDNA is a biotechnology company that develops dietary supplements using the unique scientific method developed by Dr. Hanan Polansky, which is based on Computer Intuition.
In addition to his unique scientific method, Dr. Polansky published the highly acclaimed scientific discovery, called Microcompetition with Foreign DNA. The discovery explains how foreign DNA fragments, and specifically, DNA of latent viruses, cause most major diseases.
polyDNA developed Gene-Eden-VIR , an antiviral natural remedy that helps the immune system kill latent viruses.