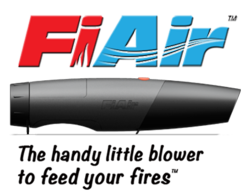 What could be more appropriate than a Flag Day launch for a product that will help boost U.S. manufacturing? Now grill chefs, tailgaters, campers and other Keepers of the Flame can buy a terrific little tool that feeds fires AND American workers
Pittsburgh, PA (PRWEB) June 13, 2013
FiAir LLC announces first shipments of FiAir, a new hand-held, battery powered blower for rapid kindling of charcoal and wood fires. Shipments to pre-order customers begin June 14, 2013 with delivery to U.S. consumers in time for Father's Day and Fourth of July cookouts.
At just over 9" inches long and weighing under 6 oz., FiAir is the only hand-held, battery-powered blower on the grill and fireplace accessories market that is truly portable and equally appropriate for use with charcoal and wood, indoors and out. FiAir also contrasts with competitive products in its hand-held, point-and-shoot operation and use of a battery-powered motor to create continuous airflow, differing from products that require users to blow into a tube, crank by hand or plug into an electric power source.
Fired Up for America
Company founder Alan i Harris says that launching FiAir shipments on Flag Day is the perfect symbol of his company's uncompromising determination to produce FiAir in the United States.
"We predicted June 17 as our first ship date, but a last minute sprint by our American manufacturer put us ahead of schedule. What could be more appropriate than a Flag Day launch for a product that will help boost U.S. manufacturing? Now grill chefs, tailgaters, BBQ teams, campers and other Keepers of the Flame can buy a terrific little tool that feeds fires AND American workers."
Absolute Power over Wood and Charcoal Fires
The company says that, no matter how you light your coals, FiAir will have you cooking in half the time you are used to, typically just 8-12 minutes. At the campsite or hearth, FiAir brings wood from first light to full blaze in about two minutes. A powerful motor in a sleek, compact design allows users to precisely aim airflow to grow and spread flames, rapidly boost temperature to sear food, integrate fresh logs or charcoal, revive a dying fire, and more. To ensure maximum control, economy and safety, the company deliberately designed FiAir to operate solely as a hand held tool.
"We believe it's never a good idea to walk away from a fire while it's being stoked," says Harris. "Not only is it unsafe, but over-stoking can burn through both fuel and batteries way too quickly. Used as directed, FiAir handles about10 fires per set of batteries. Of course, until the novelty wears off, you could blow through batteries faster because you're having too much fun to put it down!"
For Keepers of the Flame Everywhere
FiAir LLC expects its product to become the tool of choice for everyone who kindles wood or charcoal fires. In addition to grill chefs, FiAir's broad target market includes tailgaters, BBQ teams, street food vendors, survivalists, campers and other outdoor enthusiasts, as well as users of wood stoves, log-burning fireplaces and fire pits. FiAir is made in America, however pre-orders and reseller interest from 18 countries suggest the product will have worldwide appeal.
Discounts for Early Adopters
FiAir is available for purchase online at http://www.fiair.net and on Amazon by searching "FiAir." Early Birds who pre-ordered FiAir at a $10 discount may now return to the company website or Amazon to complete transactions with a credit card payment. The introductory discount will continue until the company's original ship date of June 17, after which the price will rise from $20 to an MSRP of $29.99 plus shipping and handling.
About FiAir LLC
FiAir LLC is the developer and sole provider of FiAir™, a portable, battery-powered blower that feeds and speeds charcoal and wood fires at the grill, tailgate party, wood stove, fireplace or campsite. Its lightweight, compact design and battery-powered operation make FiAir the first and only truly portable, hand-held, indoor-outdoor blower on the grill and fireplace accessories market. For more information about FiAir, or to order, please visit http://www.fiair.net. FiAir LLC is based in Pittsburgh, Pennsylvania.