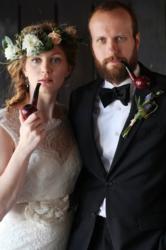 "Social Media Marketing is an essential pillar of the business, not an accessory, use it more often and use it well." Ciaran Connolly, Co-Founder of ProfileTree
London, UK (PRWEB) June 15, 2013
The owner of Blomma Designs talks to ProfileTree of the creative world of event planning in an interview released today.
When asked about the inspiration behind going into event planning, the owner said, "Planning events is somewhat like project management and keeps life interesting because it is always changing."
Blooma Designs specializes in and loves planning weddings, the owner said, "I love working with couples and getting to know them during such an exciting time in their live. Weddings bring out joy and also bring couples closer and it's so fun to be a part of that and watch the transformation from the day you meet to the time that they meet at the altar."
One Major advice stands out through the interview for someone starting their own business. "Start a business based on doing something that you love. If your heart is in it and you are dedicated this will show in your work."
According to the owner, the internet and social media are very helpful to any start-up. "The internet is my biggest advocate and tool for marketing."
Ciaran Connolly, Co-Founder of ProfileTree said, "Social Media Marketing is an essential pillar of the business, not an accessory, use it more often and use it well."
Profile Tree's main goal is to help small business owners reach new customers every day with the most innovative online marketing tips and techniques.
About ProfileTree:
ProfileTree is a free listing service where self employed and small business owner can create an online marketing profile. From Pencil or Portrait Artist to Self Employed Service Providers - anyone can create a skills profile on ProfileTree for free.
The website also enjoys sharing motivation photos for the self employed, helping with focus and drive. From professional wedding photographers to anyone offering a service - it can be listed online today.