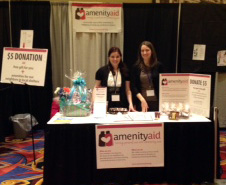 We hope within the next few years we will be large enough to support multiple shelters throughout the state
East Greenwich, RI (PRWEB) June 14, 2013
Amenity Aid is a new nonprofit with a simple mission, to help struggling Rhode Islanders obtain basic care products from local shelters.
"We are a small organization of volunteers who are ready to make a big impact in the lives of our neighbors" states founder and president Liz Duggan. The new organization has already made arrangements to donate toiletries to Crossroads Rhode Island for use in their three housing programs.
"We are always in need of travel size items like soap, shampoo and deodorant. We are excited about Amenity Aid's commitment to supporting our mission and look forward to the success of this organization," explains Joe Graziano, the community outreach and volunteer coordinator for Crossroads Rhode Island.
"We hope within the next few years we will be large enough to support multiple shelters throughout the state" adds Duggan.
Amenity Aid operates by collecting and purchasing amenities. The organization uses its funding strategically by purchasing toiletries directly from hotel suppliers to ensure the lowest cost. In-kind donations are always accepted by mail. "We've already established a network of local business travelers who are eager to help by sending us their unused hotel amenities" states Duggan.
In addition local residents are encouraged to participate in the organization's first annual summer collection drive held at various locations throughout the state (a complete list of drop off locations is available at AmenityAid.org).
The organization also hosts a unique online donation catalog that allows individuals anywhere to easily donate items directly to shelters including items such as 10 bars of travel size soap for just $5.
Amenity Aid's efforts also extend to hotels that will support their mission by contributing unused amenities. While the program is still under development it has already received great support from members of the hospitality industry. Joanne Sardini, the General Manager at Vineyard Square Hotel and Suites and Edgartown Residence Club in Martha's Vineyard states,
"We encourage guests to help others who are less fortunate in any way they can, either through our existing program [which recycles gently used soap] or by sending in our amenities themselves. Millions of lives can be saved through these programs and if it costs us as a hotel a few dollars, then that's OK with us!"
The organization will host its first fundraiser, a pasta dinner at Chianti's restaurant in Warwick this fall. More information on this event will be released in August on the organization's website.
About Amenity Aid
Amenity Aid is a nonprofit that seeks to improve the lives of individuals and families during a transitional time in their lives by providing basic personal care items. Founded in Rhode Island, Amenity Aid collects and purchases travel size amenities to donate to temporary housing facilities such as homeless shelters and women's shelters.
##